iGotcha Media tees off with SynergyScreens
The two companies are pooling their digital signage networks in Quebec and Montreal to offer advertisers 15- to 30-second video clips.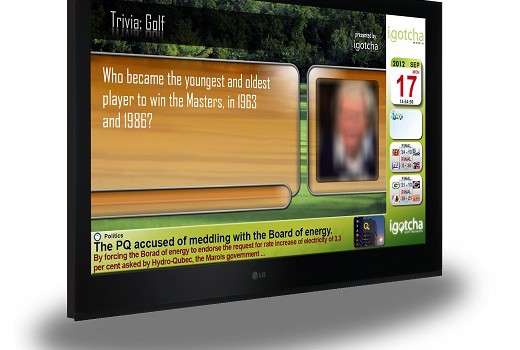 iGotcha Media has partnered with SynergyScreens to expand its network of digital signage to golf clubs in the Maritimes.
The partnership will see the agency, whose network is currently based in Montreal, work with SynergyScreens on creating and curating content for their digital signage reels, and will allow the two companies to co-sell each other's screen networks.
iGotcha Media's ad platform includes two 50-inch screens, which are placed in the restaurants and pro shops of  30 golf clubs in Quebec and seven golf clubs in the Maritimes, through a partnership with LG. The screens feature six-minute loops that contain about 60% content, including trivia, weather and news, and 40% advertising.
Advertisers can use the platform to run 15- to 30-second silent ads, as well as some custom-length executions. Together iGotcha Media and SynergyScreens also offer opportunities such as experiential and event marketing.
Greg Adelstein, president, iGotcha Media, tells MiC that the partnership was a natural fit for both companies, which had built up golf club networks in their respective regions, and were now looking to expand.
He adds that iGotcha Media's platform is ideal from brands looking to target adults above the age of 34 with a high household income, but also increasingly the 18 to 34 demo, as the golfing demographic is gradually getting younger.
He says the platform is already running executions from PEI Tourism and Viagra, but that it's also a good fit for automotive brands and golf brands.
Adelstein says iGotcha Media is eyeing Ontario as its next region to expand to later this year.