ING Direct forms an alliance
To attract new clients, the bank launched a campaign that leverages RBC's recent decision to shut down Ally Financial accounts.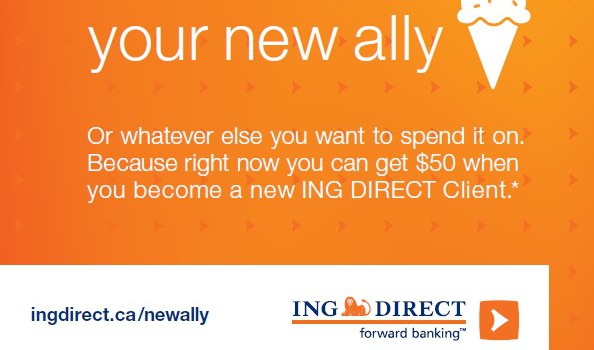 ING Direct is letting consumers in search of a new bank know that they still have an ally, with a multi-platform campaign that leverages RBC's recent decision to terminate Ally Financial consumer accounts by April 30.
RBC completed its purchase of Ally Feb. 1, and made its announcement Feb. 19. The same day, ING Direct took to social media to launch its campaign, with the message "Looking for a new ally? ING Direct is a great way forward for your savings," and also began search advertising on Google.
With media by Initiative, principal creative by John St. and digital by Dashboard, the campaign targets adults over the age of 18, with a sweet spot of 25- to 50-year-olds. Since its social media launch, the campaign has evolved to include full-page ads that ran in the Toronto Star, the Globe and Mail, Metro and the Ottawa Citizen, wild postings around Toronto that promote the bank's offering of $50 for opening up an account and a video from ING Direct CEO Peter Aceto addressed specifically to Ally customers.
Mark Nicholson, head of digital and interactive, ING Direct, tells MiC this is the first time the brand has turned a national campaign around on such short notice.
The wild postings will be in market until the end of the week, and will be followed by a larger campaign that launches April 1, which includes TV and radio buys.