City to debut Package Deal in May
The broadcaster will debut its latest comedy on Monday nights sandwiched between How I Met Your Mother and 2 Broke Girls.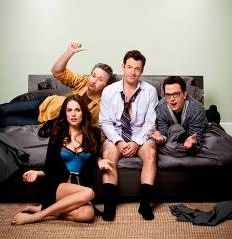 City is to debut its latest comedy Package Deal in the slot currently filled by Seed, on Monday nights at 8:30 p.m.
The multi-camera sitcom, about three dysfunctionally close brothers and the woman who comes between them, will be sandwiched between How I Met Your Mother at 8 p.m. and 2 Broke Girls at 9 p.m.
Package Deal will follow Seed's 13-episode run as City has traction on Monday nights with its comedy lineup.
The 13-part Package Deal series stars Randal Edwards, Harland Williams, Jay Malone and Julia Voth, and was created by Andrew Orenstein (Malcolm in the Middle, 3rd Rock from the Sun).
Eugene Levy and Pamela Anderson each have three-episode arcs in the Canadian comedy.
From Playback Daily