Pattison goes digital in Edmonton
The OOH company has partnered with the Edmonton Transit System to launch a network of digital screens at light-rail transit stations.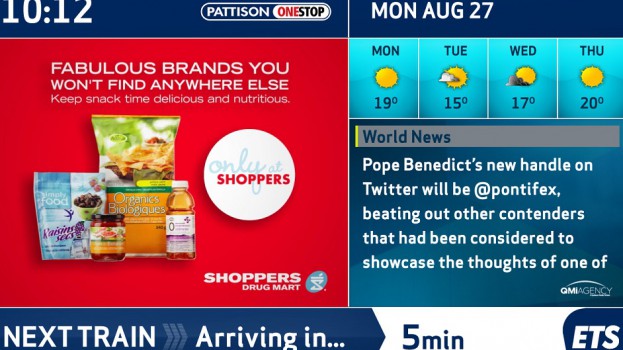 Pattison Outdoor has partnered with the Edmonton Transit System to launch a new digital advertising network of screens in light-rail transit stations.
The network currently includes a total of 34 screens at 10 stations, and builds upon Pattison's array of traditional offerings, such as transit shelter ads, and bus and light-rail vehicle ads.
The screens will offer advertisers the opportunity to reach commuters with split or full-screen static ads, as well as custom-length video spots that can be tailored to specific locations and times of day.
Pattison will expand the network to 15 stations this year, and continue to expand alongside Edmonton Transit's light-rail system, adding another three stations in the next couple of years.
Magda Bandura, product manager, airport and digital networks, Pattison Outdoor, tells MiC that the network was seen as a natural extension of the digital transit system Pattison Onestop launched with the TTC in Toronto, and a way to introduce the ad platform to Western Canada.
She says the Edmonton Transit System is a pilot project for the OOH company, and will expand the network into Calgary based on the success of the first launch.