CBC brings back Battle of the Blades
The pubcaster has confirmed the reality show is back as part of its fall slate of shows, as it rolls out the list of returning titles.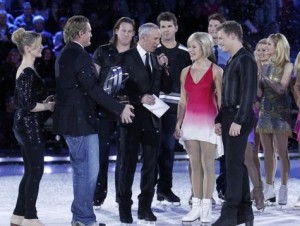 The CBC has made the first of its fall TV show announcements with a list of new and returning shows for the 2013-2014 season.
Leading the charge is the announcement that it is bringing a new season of Battle of the Blades back to the schedule. The show was a casualty of the CBC's cutbacks last spring when the pubcaster entered year one of its three-year plan to manage funding cuts.
The CBC is also bringing two new miniseries to the screen, with new work around Canadian novel The Best Laid Plans from PDM Entertainment and a television movie adaption of The Book of Negroes from Conquering Lion Pictures coming this fall.
Also back in primetime are full seasons of Murdoch Mysteries and Republic of Doyle, along with new episodes of 22 Minutes, Arctic Air, Cracked, Doc Zone, Dragons' Den,  The Fifth Estate, George Stroumboulopoulos Tonight, Heartland, Just for Laughs, Mr. D, Marketplace, The Nature of Things, The Rick Mercer Report and The Ron James Show. Coronation Street also remains on the schedule.
The daytime schedule also remains intact, with Best Recipes Ever, In the Kitchen with Stefano Faita and Steven & Chris all returning. There is also the possibility of new programming joining those daytime lineup titles, with last week's CBC announcement of a branded entertainment development initiative at the inaugural BCON Expo, which is looking for brands and independent producers to pitch new shows. Additional details on that program will be made available on April 5 through the CBC's independent producer's website.
Additional details of the CBC's 2013-2014 season, which also includes Hockey Night in Canada and the Sochi 2014 Olympic Winter Games will be released at a later date, according to a release.
Photo (CBC): Battle of the Blades season three