Abcon Media partners with The Media Merchants
The companies will offer advertisers a wide array of non-traditional OOH ad opportunities, including interactive night projections and vending machine apps.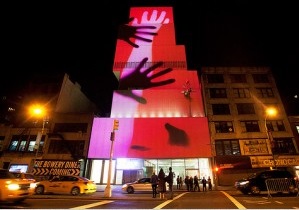 B.C.-based The Media Merchants (TMM) and Toronto-based Abcon Media recently formed a partnership to pool their resources to offer advertisers a wider array of non-traditional out-of-home advertising opportunities.
The partnership will allow Abcon to integrate TMM's interactive and visual projection technologies into its existing portfolio of ad offerings, which currently includes large-format banners and digital golf cart screens.
Together, the companies will offer ad solutions such as night projections, which become animated when the sun goes down. The banners can be augmented with features that allow consumers to interact with them via mobile, tablet and social media.
TMM also offers vending machine apps driven by social media activity, object and automotive mapping, which allows advertisers to project onto static or moving objects, and facial and gesture recognition technology that can be integrated into interactive window displays or storefront advertising.
Broderick Gunning, CEO, TMM, tells MiC that the partnership came about because Abcon was seeing increased demand from its clients for more interactive and innovative out-of-home ad units. He adds that it was a good match for both companies because it allows TMM to strengthen its reach in Toronto and Montreal, while Abcon can leverage TMM's technology and existing relationships to offer its ad platform on a more national scale.