Scotties shows off its style
The facial tissue brand has launched a new print-only campaign with designer Dee Dee Taylor Eustace.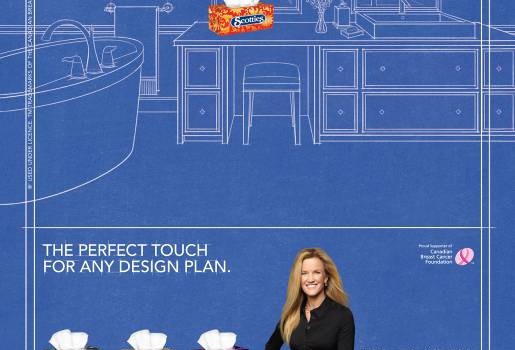 Facial tissue brand Scotties has partnered with interior designer and architect Dee Dee Taylor Eustace on its latest campaign, which focuses on how its box designs can add a touch of style to rooms in consumers' homes.
Targeting women aged 25 to 54, the campaign features media by Maxus Canada and creative by John St. It relies solely on English and French print ads, which are appearing in Canadian Living, Style At Home, the Globe and Mail and Coup de Pouce.
The full-page print ads look like a blueprint for a room design. They feature a series of box designs with Eustace's input on how they can fit into a room's overall design scheme.
Oliver Bukvic, facial tissue category director, Kruger Products, tells MiC that Eustace, who makes regular appearances in the Globe and Mail, was a good match for the brand because her authority and popularity as a Canadian design icon gave the brand greater credibility to talk about design.
Bukvic says the strategy for the campaign was developed based on consumer research that suggested that Scotties buyers are just as interested in design as they are in the overall product, and that its target audience is highly engaged with magazines. Given this, the brand invested in a much broader and heavier print buy than it usually would.
The campaign will run through the summer.