CBC expands digital presence with Microsoft partnership
A newly-launched Hockey Night in Canada app for Xbox Live will give Gold users access to live game streaming and VOD content including Coach's Corner.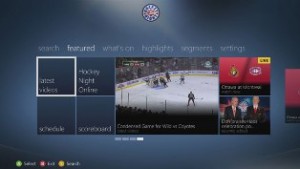 National pubcaster CBC is focusing on expanding its distribution, promotional and sponsorship opportunities with a new collaboration with Microsoft Canada.
The partnership will see CBC content made available on multiple Microsoft platforms, including MSN.ca, Xbox, Windows 8 and Windows Phone 8.
Part of the content expansion is the launch of a Hockey Night in Canada app for Xbox Live on Xbox 360, the first time HNIC content has been available as an app for the service.
The app will leverage the features of the Xbox live platform, incorporating voice and gesture control, live video streaming and on-demand video.
Xbox Live Gold users will be able to watch CBC live game broadcasts and HNIC VOD content, like Coach's Corner and three-minute game highlights packages. Users will also be able to access upcoming game schedules, review scores and stats, share videos and see what content other users are watching.
Users who do not have a Gold membership will not have access to live streaming, but will still be able to access on-demand video and other content through the app.
From Playback Daily