Ads that serve a good cause: MiC's Global Tour
Capital C's Tony Chapman and Havas' Hannah Savage weigh in on executions from Thailand's HomePro and Lima, Peru's UTEC.
It's not often that companies can say their ads serve the dual purpose of promoting their brand and contributing to a good cause, but the two executions profiled in this edition of the MiC  Global Tour fit that bill. This time around, we take you to Peru for a billboard that creates water from humidity. Then it's off to Thailand, where one brand is giving fully furnished billboards to the poor.

Here's what Tony Chapman, CEO, Capital C, and Hannah Savage, group account director, Havas Media, had to say about these executions that also serve a good cause.
Peru: Out of Home meets H20
How do you make the most of a ridiculously humid climate? If you're the University of Engineering and Technology in Lima, Peru and you're looking to boost enrolment to your engineering program, you might design a billboard that captures humidity and turns it into drinkable water. According to the project team, this billboard can capture 9,450 litres every three months to satisfy the water needs of hundreds of local families.
Chapman: An outstanding idea, and one that defines what our next decade will enable – almost anything we dream can be created. In this case, it's drawing attention to their engineering school with a billboard that captures humidity to create drinking water.
Savage: A wonderfully innovative campaign that will captivate and excite potential students. It also helps build brand equity with the local community by addressing the serious issue of water shortages and making a meaningful difference to their day-to-day lives. My only concern would be the ratio of reach and frequency versus cost of installation. The technology and engineering required to create the water billboard would have been considerable but how many people actually saw it? The success of this campaign therefore relies on the marketer's strategy to extend the reach online and through traditional PR channels.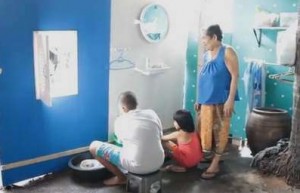 Thailand: HomePro's billboards for the poor
In poorer areas in Thailand, it's actually pretty common for people to take billboards and use them to fix up their homes. Furniture retailer HomePro is taking this to the next level. Recently, the brand's OOH signage has featured typical commercial front faces. But the back sides are fully wallpapered with shelves, coat racks and even lights.
Chapman: Any organization that helps the poor has to be applauded. The cynic in me did watch the video and yes, the billboards became walls with functioning shelves and lights etc., but the people living inside still had no furniture. Odd, given the campaign was sponsored by a furniture  company.
Savage: The campaign is built on a great audience insight, although the tagline "The other side of despair is hope" seems a little forced with little or no relevancy to the HomePro brand or offering. In terms of reaching the correct audience, I wonder how many of the people who actually took the billboards home were able to afford to shop at HomePro and how many affluent Thai people understood or were aware of the core insight that drove the campaign (that billboards are often used by the poor as materials for building shelters). All in all a nice idea but missed the mark for me when it came to connecting message, audience and insight. Although I am sure it generated some great PR.