La Presse launches free app
The newspaper's free digital edition, La Presse+ is being promoted with a multi-platform launch campaign.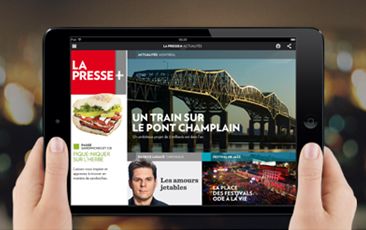 Quebec-based newspaper La Presse has launched its new free subscription app, La Presse+ for iPad following three years of research and development and a $40 million investment.
Pierre Elliott Levasseur, executive VP, digital edition, La Presse, tells MiC there is no single launch sponsor of the inaugural edition of La Presse+, instead opening up the ad options to all of the publication's clients, with advertisers in the launch issue including Air Transat, Sail and Subaru. He adds there are 26 different forms of interaction available to clients on the app, from video pre-roll to carousel photo galleries.
"We have been on a road show for the past two months, meeting with all the major agencies in Toronto and Montreal," he says. "We want to give all our clients the opportunity to take part in the launch."
Levasseur says the target demographic for La Presse is people between the age of 25 and 49, and expects the brand's average reader to drop by two to five years with the digital edition. He adds the paper went with a free-subscription model rather than a paywall for La Presse+ in order to expand its readership past the older audiences who typically read print editions.
"If you look at the demographics of people who are paying for , I haven't seen any demographics that say those numbers are getting younger," he says. "The challenge for all news media is that the average age of their readership is getting older and those people eventually need to be replaced with younger people, and people who are 25 to 30 don't pay for information. For us putting up a paywall is not a way to stem the tide of the aging population."
La Presse+ is being promoted with a multi-platform launch campaign with media and creative by Cossette, with ads on TV, radio, OOH and digital. The new app will release an issue every day at 5:30 a.m., merging what a release on the launch says is the paper's best print, web and video content.