Mark Burnett talks ratings, upfronts at CMDC
The creator of shows like Survivor and The Voice called the current TV ratings system one of the craziest things in the world of commerce at yesterday's CMDC conference.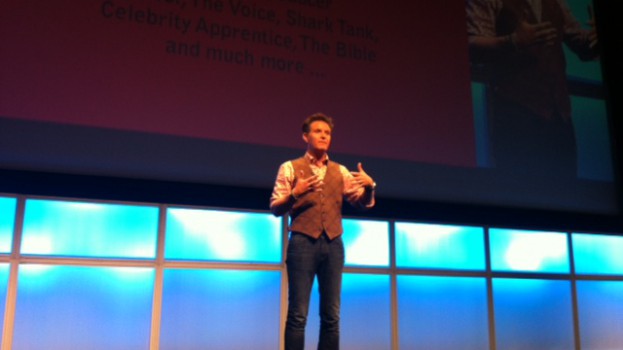 Mark Burnett, creator of hit TV shows like The Voice, The Apprentice and Survivor took to the CMDC stage yesterday morning, closing out the first sessions of the day by chastising the industry for continuing to use TV ratings systems that he says no one believes in.
He likened the ratings system to a grocery store owner and having two options to find out how much money the shop has made: either count the money in the cash and know exactly how much is in there, or do like the TV industry currently does with ratings and randomly go into the parking lot and ask people what's in their shopping bags.
Burnett also emphasized the importance of storytelling in successful content, saying advertisers can be some of the best storytellers out there and should be getting closer to producers to create content together. He suggested the introduction of a producers upfront, where people who make the shows meet directly with advertisers and agencies to get them involved from the starting point of the series. Burnett says this would bypass the game of broken telephone that currently happens with so many sales people and agencies trying to understand what shows are about so they can place ads around them.
In other Canadian Burnett news, it was announced yesterday that his One Three Media company is producing a new Canadian version of the game show Spin Off for CHCH in association with Suddenly SeeMore Productions in Canada. The half-hour show is set to launch this fall and will be hosted by comedian Elvira Kurt and test contestants on trivia while giving them the chance to win cash and prizes.