HTC launches its new One
The phone company is getting in front of its target demo with a cinema, digital and event-based campaign.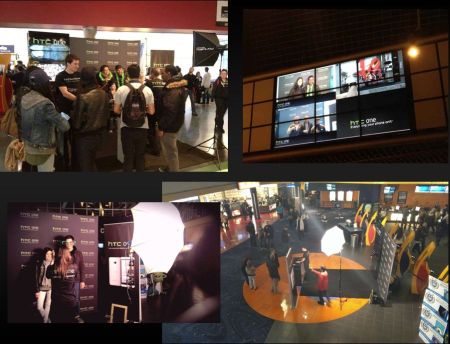 Electronics company HTC is launching its new phone, the HTC One, with a cinema, event and digital campaign aimed at its target demo of 18- to 24-year-olds in Canada.
With media by the Omnicom Media Group and creative by Ogilvy, the campaign takes cues from the global plan, but dives deeper into the event space in Canada, Sarah Gratta, senior marketing program manager, Canada, HTC America, tells MiC.
"We know our target is very light on TV viewing, but heavy in digital use, where they spend more than 15 hours per week," she says. "They also go to the cinema three or more times per month."
To reach consumers at the theatre the brand launched a cinema execution (pictured, right) in Toronto, Montreal and Vancouver that included photographing moviegoers using the phone's camera and video technology, called HTC Zoe. The brand then displayed the photos on a screen, with Gratta noting she saw people in line for the movies taking photos of themselves on the screen.
The brand is also working with Vice Canada to launch a Downtown Sound series of concerts in Toronto, Montreal, Calgary and Halifax. HTC will give the bands playing these shows an HTC One to document their day leading up to the concert. Footage of the bands' shoot will be uploaded to the Vice Canada website, with a series of videos from the events made available at the end of May when the concerts finish up in Halifax. The series kicked off  on March 28 with hip hop band BadBadNotGood and Raz Fresco at Toronto's Wrong Bar and will close on the  on May 23rd at the Bus Stop Theatre, Halifax with a concert from DJ Ryan Hemsworth and pop-punk group Cold Warps.
Gratta says the brand is differentiating the launch of HTC One from its competition by going where its target consumers are, like the movie theatre, rather than doing a large TV buy and "hoping to get them." HTC will also run its digital spot on Vice Canada, YouTube and Google through the campaign, which runs until the end of June.