Spotted! Budweiser builds NHL playoffs buzz
The Labatt brand opened pop-up stores in Toronto, Montreal, Vancouver and Ottawa this weekend to promote its Red Lights.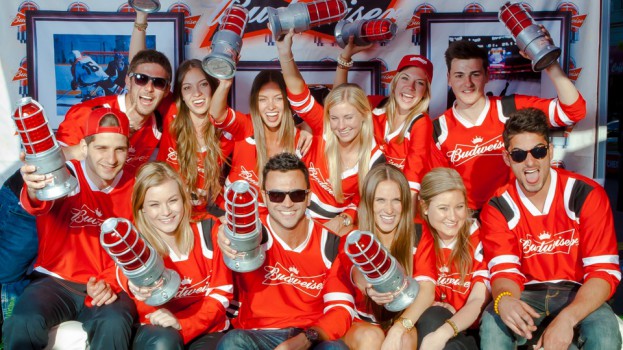 Budweiser lit up the NHL playoffs this weekend with a series of pop-up stores for its Red Lights, which were introduced earlier this year during the Super Bowl.
Conceived and executed with Mosaic, the stores were aimed at adults above legal drinking age, and popped up in Toronto, Montreal, Vancouver, and Ottawa, the four Canadian cities with teams currently in playoff contention. Budweiser drove awareness of the stores through sponsored posts on Facebook.
Consumers could purchase one of the limited-supply Red Lights on-site. Budweiser also hosted a slapshot challenge, allowing hockey fans to test the speed of their shot, and a man cave, where fans could get pictures taken with their Red Lights.
Briar Wells, manager of corporate affairs, Labatt Breweries of Canada, tells MiC that the pop-up stores were a first for the brand, adding that the event presented Budweiser with an opportunity to drive more traction for its Red Lights, while augmenting its existing hockey-related promotions and connecting more directly with fans around the playoffs and their favourite teams.
Currently, Budweiser is the sponsor of Hockey Night in Canada's Coach's Corner. It also recently launched Select Hockey Tickets for Life, a contest that allows consumer to redeem in-case pin codes for prizes, including a grand prize of select hockey tickets for life or $250,000.
While some fans have yet to receive the Red Lights they ordered online, Wells says that all Red Lights ordered before May 6 have begun shipping, with another wave of orders expected to ship for June. She adds that only a limited number of Red Lights were set aside for the pop-up stores.
Photo: Labatt Breweries of Canada