Sony launches a social project with MTV
The electronics co is promoting its Xperia ZL with a campaign that gets consumers creating content with Instagram stars.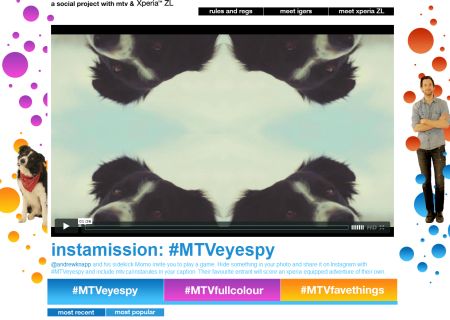 Sony is launching its Xperia ZL with a campaign that includes a digital component in partnership with MTV that gets its target consumers interacting with Instagram stars.
With media by PHD and production from Free Agency, the campaign, called Instamissions posts branded videos highlighting Instagram stars like @AndrewKnapp, who has more than 77,000 followers looking at the photos of his Border Collie Momo, who likes to hide in the shots. The social media project's first mission asks consumers in Sony's target demo of 18- to 35-year-olds to take their own own photos with hidden item, tagging them with #MTVEyeSpy. The photo that Andrew Knapp (and Momo) likes the best will be awarded with a Sony Xperia ZL of their own and have their photo journey chronicled on the microsite. Similar videos and challenges will be posted in the coming weeks, featuring other Instagram names and running until the end of June with promotion for the program running on broadcast and online through MTV.
Farhad Esmail, director of marketing, Sony Mobile Communications Canada, tells MiC the campaign came about after meeting with MTV, which said the social media project was an idea they had been tossing around for some time.
"We are targeting tech-savvy social media users who like to go out, share photos and use the camera capabilities on their devices," he says.
Esmail says the brand is currently spending about half of its annual media spend in the digital space, with programs like Instamissions allowing Sony to connect directly with consumers. The brand's launch campaign for the Xperia ZL also included other forms of media, such as an OOH campaign in Montreal, Toronto and Vancouver that launched at the end of March.
"We wanted to do this program because these kinds of things allow us to cut through the clutter," he says. "As marketers we have to be able to connect to consumers in an authentic way, and with the types of connections you can get through a smartphone and online you can start to have opportunities with brands like ours to connect with consumers directly."