Icy vending machines and mobile storms: MiC's Global Tour
Dare's Ian Barr and OMAC's Rosanne Caron weigh in on a series of out-of-home executions from Scotland's Talisker Whisky, 7UP and Spain's ANAR.
Brands are increasingly looking for OOH solutions that go beyond the traditional billboard or shelter ad and allow them to engage more deeply with consumers. In this edition of the MiC Global Tour, we take a look at a few examples of this. First we head to Scotland where whisky brand Talisker is brewing up a storm. Then it's off to Spain for a special ad that's designed for kids' eyes only, before our last stop in Argentina, where PepsiCo brand 7UP designed a vending machine entirely out of ice.
Here's what Ian Barr, VP and director of social innovation, Dare, and Rosanne Caron, president, OMAC, had to say about these out-of-home executions.
Scotland: Talisker Whisky causes a storm
Scottish whisky brand Talisker was looking for an innovative way to launch its latest product, Talisker Storm. So what did it do? It created an interactive weather machine to let consumers experience the storm. The machine comes complete with its own set, including rain clouds. The machine is expected to travel to Munich, Germany and Madrid Spain this month.
Barr: Tactically, it's an interesting local experience that combines both the roots of where the product is distilled while maintaining the product intrinsics – intense with a profound maritime character. You have to wonder if cost of the activation was worth the investment given the amount of people who would have engaged with it. Talisker is an entry-level single malt that should storm the mouth to convert new drinkers. There seems to be a bigger piece that's missing that could drive more people to taste the product on premise and learn about it online.
Caron: The campaign is limited in reach because it's site specific, unless awareness is being raised through other media driving consumers to the venue. But it helps that it's a traveling display. I thought it was very innovative though, and definitely reinforced the uniqueness of the distillery's location. I missed what the weather had to do with the actual product though. Does the rain create a whisky flavour?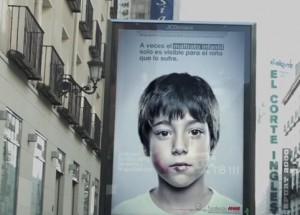 Spain: ANAR's ad for kids' eyes only
Spanish non-profit Aid to Children and Adolescents at Risk (ANAR) recently launched an OOH ad designed with a special message for kids' eyes only. The ad uses lenticular printing to send two different messages based on height (one for adults, one for children). Adults see an ad with a normal-looking boy. Kids, meanwhile, see a boy with a bruised cheek and cut lip, as well as ANAR's hotline number.
Barr: The power of this idea is in the strategic use of media and medium. It's easy to get carried away with forcing innovation into a creative idea, but the context in this approach was beautifully done. Would the execution be as powerful if you weren't exposed to the summary video and happened to stumble across it on the street? I don't think so. The video completes the idea for me – it transcends its original medium, bringing a lot of share value online for the ad industry. Marketers and agencies recognize and love these ideas but I'd hope it's more effective in addressing the greater issue of child abuse.
Caron: It's unusual to appeal to children in this manner so I thought this was very innovative in its targeting and most certainly the execution. I'd like to know how effective it was as I find it hard to believe a 10-year-old would pick up the phone to call the helpline, so I don't think it was effective at generating action on the part of the target. It has garnered a lot of PR though.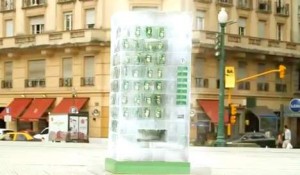 Argentina: 7UP's ice-cold vending machine
7UP is just the latest brand to reimagine the old-fashioned vending machine. To coincide with the rising temperatures in Argentina, the pop brand created a vending machine made entirely out of ice. To add a social element to the stunt, 7UP asked passersby to tweet when they thought the last can would be liberated from the machine. Those who guessed right got a free six-pack of the pop.
Barr: I'm surprised that a PepsiCo brand would attempt anything with a vending machine, especially considering Coca-Cola's success in bringing executions to life with this mechanic. The execution feels "me-too" in the context of what gets shared online, but local market context needs to be considered. It would be interesting to understand how many people were actually exposed to this. Fill it with beer and I'll eat my words.
Caron: This offers a similar gimmicky appeal to Talisker's example, but more limited in reach for the experiential benefits as this one doesn't travel. I like the social element to generate increased awareness and allow others not in the vicinity to participate on some level.  Brand affinity is extended through prizing and the "gaming" nature of betting. Executions like this have big earned media potential.