Postmedia launches paywall
The media company launched paid subscription services for all its newspaper websites and apps, and is promoting the launch with a TV and OOH campaign.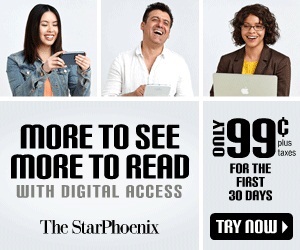 On Tuesday, Postmedia announced the official launch of paid subscription services across the digital assets for all of its newspapers.
The new paywall services will offer readers a variety of subscription options. On top of existing print and e-paper subscriptions, readers can choose all-access bundles, which include print home delivery and unlimited access to a newspaper website, as well as its smartphone and tablet apps.
Readers can also select the digital access bundle, which includes access to a newspaper website and its smartphone and tablet apps. Additionally, Canadian non-subscribers will be able to access 10 free articles per month.
Depending on the market, prices for the all-access bundle will range from $25 to $30 per month, while the digital access bundle is priced at $9.99 per month. The first 30 days of access is 99 cents.
Wayne Parrish, COO, Postmedia, tells MiC that the goal for Postmedia is to reach out to loyal subscribers and make them more aware of the content of its publications, which he says will differ vastly from print to online to mobile.
He adds that now is a critical time for Postmedia to launch its subscription services because it needs to leverage its websites and apps to ensure that it doesn't lose all revenue attached to its print products.
"We're all in the media world that has grown out of the print world," he says. "As opportunities to sell print newspapers and the advertising revenue attached to those diminish, you have two choices: significantly reduce the investment you make in the gathering of news and information, or you find other ways to fund it."
Parrish says the decision to launch paywalls across all Postmedia publications also stems from its prior experiences with subscription services. In 2011, Postmedia launched paywalls on the websites for the Montreal Gazette and the Victoria Times Colonist, which it sold to Glacier Media later that year, as part of a pilot project to gain intel on metre thresholds, price points and bundling options. The next year, it introduced similar services for the Vancouver Sun, The Province and the Ottawa Citizen.
He adds that he anticipates that the digital subscription services will have little impact on ad revenue for Postmedia's digital and mobile properties, noting that a lot of ad inventory is unsold for these properties, and that it will be offered to advertisers to allow them to reach consumers behind the paywalls.
The launch of the new subscription services is being promoted by a multi-platform campaign targeting adults aged 35 to 54, with media by Goodwood Media and creative by Toronto-based Us Communications.
The campaign includes ads across all Postmedia properties, as well as external advertising, including TV spots on CBC, CTV and City, and OOH ads in markets like Toronto, Montreal and Vancouver.