Spotted! Dairy Queen brings the circus to town
The ice cream company promoted its new "upside down or free" brand promise with acrobats and stilt-walkers.
Dairy Queen Canada rolled into Yonge-Dundas Square yesterday with a circus of acrobats and stilt-walkers in tow, in a bid to introduce the new "upside down or free" brand promise around its Blizzard treats.
The promise, which is also on display at Dairy Queen restaurants, means that Blizzards must be turned upside down before being served to customers or else they're free.
Targeting both adults and children, the "Upside Down Circus" was executed with help from Toronto-based PR firm Media Profile and featured performers from Toronto's Zero Gravity Circus. The brand partnered with Nestle Canada to give away 10,000 free mini Kit Kat Blizzards, sample Kit Kat bars and prizes in return for donations to Dairy Queen's long-term charity partner the Children's Miracle Network.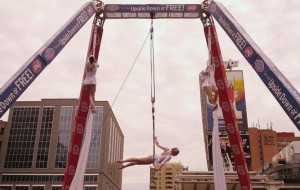 To drive broader awareness of the circus, Dairy Queen leveraged Facebook and Twitter, as well as the social media assets of its partners.
Denise Hutton, VP of marketing, Dairy Queen Canada, tells MiC that Dairy Queen opted to introduce its new brand promise through a publicity stunt in Yonge-Dundas given the success it's had with past activations. She adds that using a circus was a good fit for the brand's light-hearted personality and allowed Dairy Queen to interact more with passersby.