Decoding tomorrow at FutureFlash
From storytelling to talking products, deconstructing the information from day one of ICA's FutureFlash, which concludes today in Muskoka.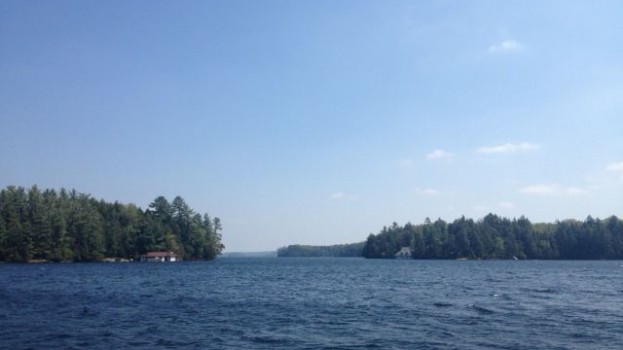 Muskoka in the springtime. Brilliant sunshine, fresh air, a becalming Lake Rousseau nature soundtrack, and 150 of Canada's most influential agency, media and marketing execs sitting inside a windowless conference room, raptly listening, trying to get a bead on the future.
Every year the ICA pries the adworld's attention away from their BlackBerrys and iPhones and charts and pitches for two days, to refocus on what's ahead. And yesterday, it was all about the digital world's trajectory into the physical world – and vice versa – and brands' role as interface.
Nathan Martin of Deeplocal: Bridging the digital and physical worlds

In a tomorrow-decoding presentation entitled "Reinventing the Wheel," Pittsburgh-based innovation studio Deeplocal founder Nathan Martin, who once taught a course on parasitic media says he believes the key to the future is a rather old-school solution – storytelling – creating something people are willing to talk about. But in this tech-obsessed age, he observes that ad folk have a tendency to defuse that power by layering on complexity. "We overcomplicate stories very quickly."
Deeplocal itself may be the future of advertising. A spinoff of Carnegie Mellon University, the collective is made up of roboticists, chemical engineers and assorted visiting artists, creating things that have never existed before for brands who are looking to attract attention via avenues beyond advertising. Deeplocal did the Cannes Lions-winning Nike Chalkbot, in collaboration with W+K, figuring out a way to actually print consumer-generated messages on the ground at the Tour de France. The program generated discussion and became meaningful to people for a reason Martin, who previously ran an art group, describes as a very basic and enduring principle – if something is truly remarkable, people will talk about it. "Humans desire real, personal, tangible experiences that create memories."
Deeplocal also created a mind-controlled bike, the Toyota PXP, a collaboration with Saatchi, that lets riders shift gears with their mind via a neuro headset. Again, it was about "how do you get conversation going" and literally crafting a remarkable story to share.
Another physical world meshing with the virtual world program was created with Nat Geo for Expedition Week. To get people excited about exploring, they created a miniature set representing scenes from films. People could go online and queue to navigate around the set and find artifacts, and when they found one and snapped a pic – they sent them a physical artifact in the mail.
In a more profound real world outcome, another Saatchi and Toyota program – Ideas for Good – asked consumers how to adapt new tech from Prius for social good. Deeplocal signed on to build the five winning prototypes in three days prior to knowing what the ideas were. Ultimately, the ideas went to the university to commercialize and several are being developed for use, fulfilling on the goal of making invisible innovation visible and triggering a lot of brand focus.
As to what happens next, the ex-underground music scenester and Gameboy hacker says that we will develop a renewed passion for real-world experiences, we will desire to make things and see our impact on the real world, and we will adapt tech to enable the new wave of craft.
He also advised that agencies find new ways to inspire and stimulate creativity rather than watch the same viral video trends all your competitors are watching, and expecting to come up with novel and remarkable ideas despite cookie-cutter inputs.
He also said that everything doesn't need to be bleeding-edge tech solutions. Martin says he is focusing not just on robotics but craft and artisanship. "I'm not afraid to pitch antiquated technology."
"I try to figure out the user experience," he says, advocating resorting to gutter tech, the lowest common denominator, to solve a problem. Martin even uses his parents as ECDs to pitch ideas to see if they understand them, as a reality check. "We oversell – we forget what the simple idea is." And he encourages everyone to do this. "If you don't understand it, if you feel you're mesmerized by technology," he suggests that probably your user will be too.
Andy Hobsbawm of Evrythng: The rise of intelligent products

Andy Hobsbawm, however, the CEO of London-based Evrythng (who founded the first internet agency back in 1994), expects tomorrow's user experience to entail interaction with intelligent objects – everything from your washing machine to your washing powder.
He believes we're maybe 10 years away from every product having intelligence, and similar to people having dual entities, a physical and a digital profile, so too will products have a physical and a virtual iteration. Citing stats like objects outpacing humans signing up for AT&T mobile accounts back in 2010, and that there will be one trillion connected devices by 2015, he says the idea of objects becoming part of the web – like content files – should be feasible with the physical world as well.
The web of things, with machines having web intel embedded in them, is already taking brands' business models new places. Hobsbawm points to Rolls Royce shifting from a product to a service model as their computerized turbine engine system is able to diagnose problems, and to Progressive car insurance, which uses a dongle system to enable risk adjusted pay-as-you-go car insurance.
Hobsbawm points to a social layer of interfaces, like the pizza ordering fridge magnets or Nike+, as examples of the type of services this will open the door to, adding that if a brand is in that kind of relationship, it doesn't need to advertise in the same way. He envisions a future where products will be as clever as Google, social as Facebook, easy as Apple, connected as Nike+, personal as Amazon, and entertaining as YouTube.
He points to smartphones, a ubiquitous interface with location awareness, as our universal remote, and says the ability to merge physical and digital is already here, we're just not leveraging it.
A big question is "where do humans fit in?" Hobsbawm posits, "at what point do you give your dry-cleaning permission to start talking behind your back and deciding your suit needs cleaning?"
The opportunity is about connecting people to brands through products. He likens it to a Facebook for things, "every customer is unique, and now their products can be too – having an actual digital identity."
He gives as an example, the notion of making a guitar smart. "I could check into that object and it could have a layer of digital services." One area is offering geo-specific services, like connecting the owner with other musicians, or prosaic perks like offers on strings.
What the "internet of things" means to advertising is that products become media via a digital trigger.
There is Nike+ potential for washing powder, which would be the jumping off point for an ongoing personalized relationship.
Pontificating on what a product with its own digital life would mean, what could be unlocked, what services could be triggered, Hobsbawm says you could do product registration as a "check-in" and create a product locker for digital receipts, warranties, etc. And that unlike an Instagram picture, it's a digital manifestation of a physical thing. Rather than a piece of content, it can recommend how to get more out of your camera, it can tell you how to fix itself and it can supercharge itself with web intelligence, he explains.
In addition to products as owned digital media serving up consumer data, he adds that the product could also have a supply chain experience as well as a consumer facing experience.
In the spirit of the ICA's Tomorrow Decoded theme, he closed with the notion of "what if everything was addressable?" Concluding that it seems inevitable, Hobsbawm says the idea of a product completely configurable to you means that rather than mass, products become customized, and instead of static, dynamic. And warns, "if you thought there was a lot of communication on the internet today, just wait until products start talking."