Future Flash: transparency and overstated revolutions
McDonald's talks "Our Food. Your Questions.," Sir John Hegarty reminds adland what they've forgotten and Sir Richard's Condoms' social impact.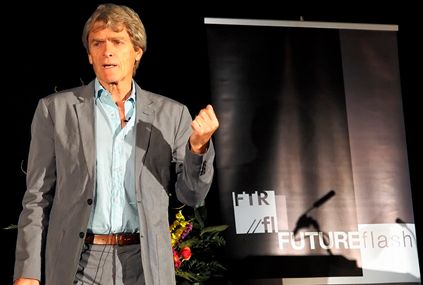 Transparency and creativity figure large in decoding tomorrow, and those topics kicked off the final day of the ICA's Future Flash conclave in Muskoka yesterday.
McDonald's and the art of transparency

Transparency was tackled first in a session introduced by Globe and Mail publisher Philip Crawley, who set the stage by observing "I've been in the business 40 years and never seen things move so quickly as they have in the last 12 months."
And the focus of the panel, the McDonald's "Our Food. Your Questions." program, is a great example of rapid change. The Canadian division of McD's came up with a global first when they decisively responded to concerns about food health and origins with full disclosure on its practices in a way that has largely been seen as genuine, gutsy and raising the bar for the industry.
Their mega mini-docs response to Morgan Spurlock-ilk negativity has revolutionized transparency by taking the borders off what an organization is willing to share. Rather than pushing out a nicely packaged transparent response or two, they've removed the boundaries and have now answered over 200,000 questions, and continue to do so.
McDonald's senior national marketing manager Michelle Mcilmoyle says the internal conversation wasn't as difficult as you might believe because McDonald's as an organization is proud of its food. "The management team did have some apprehension but embraced it wholeheartedly as did our entire organization." She added that suppliers also embraced it. "Everyone knew we had nothing to hide and felt strongly about addressing rumours and supplying the facts."
As to the cost of transparency, it requires a dedicated community management team, as you can't really turn it on and off. Mcilmoyle explains "the key is embracing transparency – you can't be half transparent, half honest, half real."
The program's perceived authenticity is attributed to starting digitally and allowing it to grow organically, letting people share answers themselves. And using real employees and helped spread it.
Mcilmoyle explained that McD's had been telling their food story, but it was buried, and that their agency (Tribal DDB) said "if you really want to tell this story you have to make it clear and simple."
"They really framed it up for our senior leadership," she says. "We had to really hold hands and say this isn't half transparent, this is 100% transparent. It's not a campaign, it's a platform. We'll continue to take questions, some will make us uncomfortable but we need to address that as well."
And for those that don't tackle it head on, there's an app for that. Kate Ancketill, CEO of UK futures consultancy GDR Creative Intelligence, gave a talk on the opening day of Future Flash on "Aggregators – The New Search," citing several that keep tabs on everything from ethical sourcing to healthy food, like The Eatery (for pics and ratings of healthy meals), or TrackMyMacca's, a McDonald's Australia app that uses location, product and time to pinpoint and bring to life food's farm origins using 3D augmented reality.
Socially-conscious condoms
How big a role health concerns and core values can play was also explored on the opening day as Jim Moscou, CEO of Colorado-based Sir Richard's Condoms, explained his start-up social-impact company business model, and why it's important for other brands to take note. It's based on the premise of solving the problem of not enough condoms in the third world, so for every condom sold, they donate one in developing countries. They created a freely distributed condom brand for Haiti – Kore – so social is deeply built into the company from its origins.
It's taking off, has good distribution, and is also differentiated by being parabens, petrochemicals and spermicide free. And lo and behold the buyer is changing – more women are buying this product and Sir Richard's can charge a few bucks more without complaints from retailers or consumers, Moscou says.
"Solving that problem fit a new consumer landscape" says Moscou, citing stats that say 89% will switch brands if associated with a good cause and 37% of millennials are drawn to brands co-branding with cause campaigns. So he posited the question "could social and cause become a business asset?" And answered it by saying, "consumers will want this transparency."
To deliver it, he says "the back office must become the front office. If we're going to have social impact companies, we have to put all the research out front." To that end, their website has a condom tracker – so people can see how many get donated in real time.
Brands go back to the future
One of the adworld's top creative gurus, Sir John Hegarty, the H of BBH, in a keynote following the McDonald's discussion, said "the fact that we have to be talking to people about transparency is kind of depressing, isn't a brand about trust?"
While he believes that digital technology has democratized marketing, he says he's tired of everyone saying everything's changed. "Actually, a lot hasn't. If you've been around as long as I have you get great perspective. What's changed really is our ability to exploit ideas in ways we never could before." He says the "danger of revolution implies everything else is broken, and that's not true."
He believes this perception contributes to core brand building falling by the wayside. "I think we've forgotten over the last 10 years the difference between persuasion versus promotion. With persuasion you are talking to a large audience, and a great brand always does that." He goes on to explain that it's important because you don't always know where all your audience is, "and you're not converting, great brands convert."
Likening it to an airplane, Hegarty says "if you cut the engines off you will drift for a while, but eventually you'll crash."
He also admits to being "slightly disappointed today that we seem to have slipped back into the interruption model," and questions the impact on brand trust. "We had an interesting conversation about transparency yet we think it's all right to go around sliding messages into things – tweets, etc. I thought we were getting beyond that. But we've slipped back."
Hegarty advocates creating a competitive edge with creativity. "The essence of great creativity is to take known assets and reassemble them in a way that stimulates our imagination – all of a sudden you change how people view and think about something."
"I'd like people to understand marketing is a creative process – and you need to take a leap. It's a creative proposition, not a factual proposition."
He also observes that as an industry we're losing craft because everyone is flitting from blogging to filmmaking, etc. and think they can do everything. "You can't," he flatly points out, adding, "we suffer today from people who think they can do everything, and I think there's an arrogance in that."