Spotted! Tourism Nova Scotia lights up Toronto
The tourism board built a 28-foot replica of the Peggy's Cove lighthouse to establish its "Take Yourself There" campaign in the city.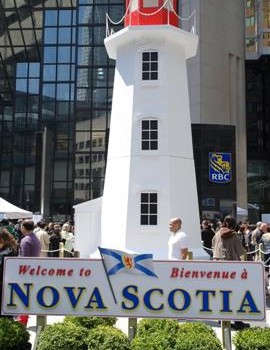 Tourism Nova Scotia recently brought a bit of the province to Toronto by building a 28-foot tall replica of the Peggy's Cove lighthouse as part of its "Take Yourself There" campaign.
Targeting adults aged 35 to 50, the tourism board worked with its media and creative agency, Extreme Group, as well as with Margot Walsh Media, Pattison Outdoor and its experiential division, Fourth Wall Media, to bring the structure to life at the corner of Bay and Wellington streets.
The activation also included food from the province, provided by A Taste of Nova Scotia, as well as a musical performance by Halifax-based Celtic drum group, Squid.
Tourism Nova Scotia drove further awareness for the stunt through a media partnership with City and Breakfast Television, full-page print ads in the Toronto Star, geo-targeted mobile ads, social media and street teams.
Shelley Mackenzie, media strategist, Margot Walsh Media, tells MiC that the stunt marks a larger than typical OOH spend for Tourism Nova Scotia. She says that it was important for the tourism board to invest so heavily because it was looking to establish its new "Take Yourself There" branding in a highly competitive Toronto market.
Ford Shirriff, director of business development, Fourth Wall Media, adds that the activation presented Tourism Nova Scotia with a stronger opportunity to drive tourism to Nova Scotia by providing Torontonians with a genuine taste of what the province is like.
The activation is a follow-up to Tourism Nova Scotia's "Take Yourself There" campaign from March, which relied on a mix of TV, print, OOH and digital ads.
While tourism numbers aren't available yet, comScore numbers from April show traffic increases to the Tourism Nova Scotia website of 31% in Ontario and 39% in Quebec.
The Peggy's Cove lighthouse will stay in Toronto for three weeks.
Mackenzie says Tourism Nova Scotia may reuse the lighthouse for future activations.