Shoppers Drug Mart launches summer campaign
The retailer's big summer push includes a contest, in-house brand promotion and customized in-store program with 31 vendors.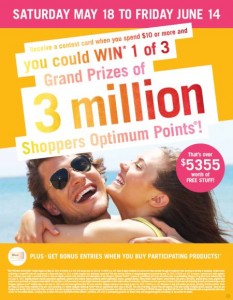 Shoppers Drug Mart has launched a five-stage summer campaign, targeting consumers during the short Canadian warmer months.
With media by Aegis, creative done in-house and digital by Trapeze, the campaign kicked off in late April and runs until May 17 with a piece called "Only at Shoppers this Summer" aimed at promoting the company's house brands. It includes a 24-page editorial style book that is distributed in-store and in Glow magazine. It also includes the "Fill it to Win it" game, where consumers go on the Shoppers website and fill a basket with $100 of product with one person each day who plays winning a $100 Shoppers Drug Mart gift card.
The other piece in the campaign is the shopper marketing-focused "Get set for Summer," where the retailer worked with 31 different vendors and integrating them into different themes throughout the store, says Sandra Sanderson SVP marketing, Shoppers Drug Mart. This phase will roll out later in June.
A second wave of the company's summer campaign will roll out in mid-July called "Soak up Summer," with creative that reflects the feeling of the lazy days of the season.
Throughout the entire campaign there will be an in-store safety piece running, which focuses on consumers talking with the pharmacist team at Shoppers Drug Mart through signage and tips about sun safety, says Sanderson. The sun safety piece is running in partnership with the Canadian Dermatology Association.
Targeting women with a sweet spot age of 40, the campaign, which has a spend on par with major campaigns from Shoppers Drug Mart, includes OOH ads in major urban centres across Canada, a partnership with Ontario Parks to send out a branded email when people reserve a camping spot and 30-second vignettes airing on The Weather Network along with digital ads running on their website.
Print ads in the campaign will run in the Globe and Mail's Style section, as well as online on The Kit and on fashion blogs, says Sanderson.
Mid-July, the company will also launch its first campaign dedicated solely to promoting nail products at Shoppers Drug Mart.
"Nails are very hot and are a growing category right now," she says. "We are going to showcase our breadth in the category with merchandising and a display that is solely focused on nails. We will also have a nail hub online where we will show consumers how to get hot summer nails. This will be promoted in-store, as well as in print and online."