Astral OOH names Carte Blanche winners
Work for Kobo in Toronto and Honda in Montreal took this year's awards, with the Vancouver winner to be announced in early June.
Astral OOH has handed out the awards in the 2013 Carte Blanche for Creatives contest, with David Glen and Dhaval Bhatt from John St. taking the top prize in Toronto for their work for Kobo. Ads created for the contest, which is held in Toronto, Montreal and Vancouver must be original spots created for existing clients with no brief or limits.
The winner was chosen by a jury of creatives, one from each of the agencies that were finalists in the contest, Veronique Desroches, marketing director, Astral OOH, tells MiC.
Glen and Bhatt's winning piece for Kobo was a back lit TSA that allowed passerby to read a page from a book.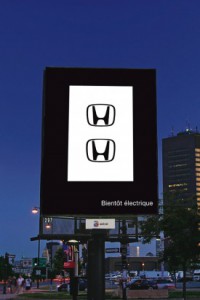 "The Kobo piece…really promotes the product with simplicity," says Desroches. "The promotion of the bus shelter matches the product perfectly."
Astral OOH has also unveiled the winning team from Montreal, Luc Du Sault and Vincent Bernard from Lg2 who won for their "Honda electrique" ad for Honda. Vancouver's winning team in the Carte Blanche for Creatives contest will be revealed on June 4.
All three winning pairs will get a $50,000 campaign for their ad in their respective city and a trip to the Cannes International Festival of Creativity this June.