Fallsview Casino launches AR billboard
The Niagara Falls-based casino is using its first-ever augmented reality billboard in Toronto to remain competitive in the crowded gaming category.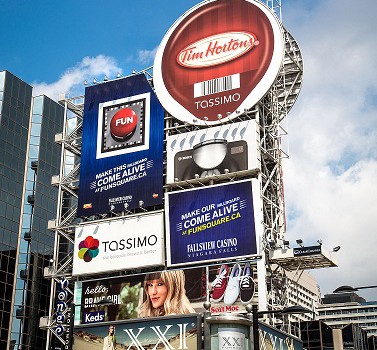 Fallsview Casino has brought its fun and games to Toronto's Yonge-Dundas Square with the launch of a new augmented reality digital billboard targeted at adults above the age of 35.
The billboard, with media by OMD, creative by Blammo Worldwide and mobile execution by Toronto-based Pixelpusher, was unveiled Sunday through a live event hosted by the casino with help from St. Jacob's, ON-based Sparks Event Marketing.
It encourages viewers to download the FunSquare app, which uses the cameras on their mobile devices. When pointed at the billboard the AR sequences activate, featuring fireworks and playing cards. After the sequences, viewers can choose to watch another or visit the Fallsview Casino website.
The new billboard is being promoted and supported by an email blast as well as a heavy social media presence on Twitter. The unveiling of the billboard was also accompanied by a TV activation on Breakfast Television and prize giveaways.
Greg Medulun, director of communications, Fallsview Casino, tells MiC that this is the first time the brand has used an AR billboard in the five years it has had an OOH presence at Yonge-Dundas Square.
He says it was necessary for the casino to begin to explore more non-traditional, interactive forms of advertising to remain competitive in the crowded gaming market, and to keep Niagara Falls top of mind for consumers in Toronto.
The board will be in market until September, after which Fallsview Casino will return to traditional OOH activations.
Medulun says the casino will launch a new billboard and series of AR animations in the spring of 2014.