MuchMusic unveils sponsor lineup for 2013 MMVAs
Joining the awards show this year is Wonka's Nerds candy brand, which will host a contest allowing consumers to customize their MMVA experience.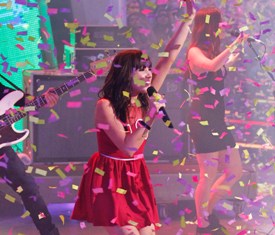 This morning MuchMusic released its lineup of sponsors for the upcoming MuchMusic Video Awards, revealing Wonka's Nerds as a new partner for the show.
In total, the awards show, which sees both Canadian and international musicians and celebrities descend upon Toronto, now counts seven sponsors including BlackBerry, Coca-Cola, P&G, H&M, Virgin Mobile, Subway and Wonka's Nerds.
As a new partner, the candy brand is hosting a contest that plays on its brand message of "uniqueness" and offers consumers an opportunity to attend the MMVAs. The catch is that they have to design their own experience, from what type of hotel they'll stay in to how they'll arrive at the awards show.
Dave Caporicci, director, brand partnerships, Bell Media, tells MiC that Wonka's Nerds was a good fit for the show because the brand's target audience is right in the wheelhouse for the MMVAs (teens and adults, aged 12 to 49), and because of its light-hearted and fun brand personality.
Meanwhile, returning sponsor BlackBerry will have its own BlackBerry Lounge that will be livestreamed during the MMVAs. It will be hosted by MuchMusic VJs Liz Trinnear and T-reXx, who will sit down with performers and celebs.  Trinnear will also be featured in content leading up to the show that will play on the brand's "Keep Moving" tagline and chronicle her experiences leading up to the MMVAs.
With the third edition of Coca-Cola Covers, an online branded singing competition, down to the final three, Coca-Cola will use the MMVAs as a platform to reveal the winner of the competition and hand out the Best Cover Award.
P&G will be hosting its own second-screen experience online that will allow users to chat, participate in polls and view and share content through a graphical overlay that will offer multiple views of the awards show.
Virgin Mobile will channel its "It's better to be a member" brand promise and host the MMVAs sound check once again, inviting some of its members to watch. On the night of the show, Virgin Mobile members will be able to enter through a special entrance to avoid the wild crowds.
H&M will look to establish its status as the fashion authority of the MMVAs, employing Toronto-based fashion designers and bloggers the Beckerman sisters to create red carpet-themed content the night of the show.
Rounding out the list, Subway will look to own backstage again this year, with a mobile unit on site serving food to celebs, crew and fans. The QSR will also name a backstage correspondent who will produce content documenting the backstage experience.
Caporicci says that over the years it's become increasingly important for MuchMusic to find new and innovative ways to team up with brands.
"A straight up sponsorship that's just spots and "brought to you by" billboards isn't enough for advertisers anymore. They really push us to come up with unique brand partnership activations that go over and above."
"It's a testament to the power of the show and the success of past activations that these sponsors have come back year over year," he adds.
The MMVAs air June 16.
Photo: Carly Rae Jepsen performs at the 2012 MMVAs.