Rogers execs on why they're serious about comedy
Jack Tomik and Malcolm Dunlop talk new ad options, building brands and going after comedy-loving younger demos.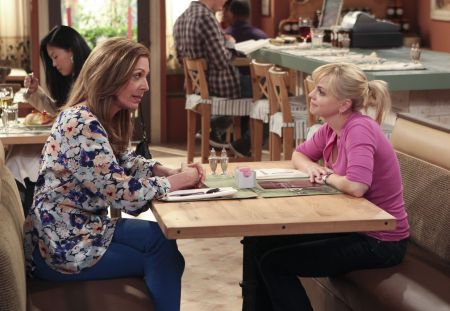 Rogers Media was the first Canadian TV network out of the gate with their upfront presentation yesterday, adding eight new comedies, six dramas and two reality shows to its City lineup for the 2013-14 season.
Malcolm Dunlop, EVP, programming and operations, Rogers Media, tells MiC the channel went with its reputation of being a company that buys comedies during the L.A. screenings and continued doing just that this year, picking up shows including his favourite from the new bunch, Mom (pictured) as well as Seth MacFarlane's Dads and the Robin Williams-starring The Crazy Ones.
"We saw going with comedy as a key opportunity for us and one we could win at," says Dunlop. "It started years ago when we bought things like 30 Rock and Modern Family and both were successes. We want to make City skew a little younger than our competitors and the comedies seem to be a good way to go for us. We built on it and we have made our station a good place for comedies."
In addition to helping City reach the 18-to-34 and younger demographic, Jack Tomik, chief sales officer, Rogers Media says comedies also sell better with advertisers and offer better ratings when airing in repeats.
Tomik says advertisers buying around the Rogers Media upfront this year will be doing so with the company's new sales structure, which allows agencies to work across platforms with their sales rep at the media co rather than with different contacts for each piece of a campaign.
"The upfront sales will be available to clients any way they want them," he says. "The majority of clients have jumped at the opportunity to work with us under the new sales structure very quickly."
This upfront season Rogers Media has also introduced another new sales option, allowing clients to buy across one of three cross-platform blocks: premium video content, which features the new fall shows; a genre-specific buy across topics like food, finance or fashion; and a large-reach buy that includes Rogers Media properties as well as ones the company represents, like NBA.com, says Tomik.
"We are simplifying the buying model because the complexities of multi-platform buying can be too much," he says. "These new options help to create pieces that are about execution and accuracy."
Rogers Media is also building out its sports and special events programming this fall, with the introduction of The Grammy Awards and CMAs in 2014.
"Sports and big events create water-cooler [talk] now. It used to be we could do that with scheduled shows, now we can do it with things that are live," says Tomik. "And with Rogers Media we can take these music shows cross-platform on radio with our stations and digital properties."
Keeping on the topic of sports, Scott Moore, president of broadcast, Rogers Media, revealed that the company will look to build its Sportsnet product, rebranding The Score, which it officially acquired in April following CRTC approval, as Sportsnet 360 at yesterday's upfront.
The new addition to the Sportsnet family will continue to focus on 24-hour coverage of news, scores and highlights and will also remain the home of programming like WWE, FIBA Basketball and the Vanier Cup. Moore noted that Rogers Media will also look to build the channel's existing live sports programming offerings through existing rights agreements, adding UFC to the lineup, as well as potentially including NBA and MLB games.