CTV execs on their 2013-2014 strategy
The broadcaster's president of programming and sports Phil King and Bell Media president Kevin Crull discuss shuffling the primetime schedule and TV research with Twitter Canada.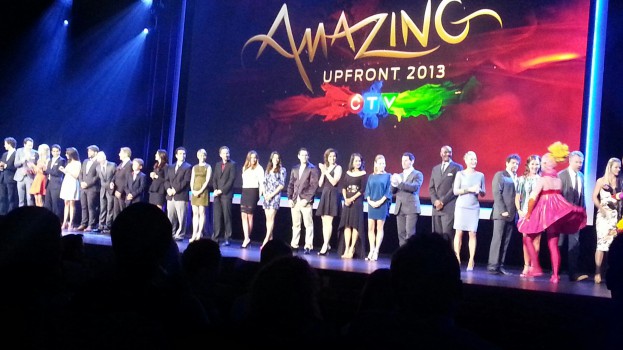 CTV's message to advertisers and audiences at its 2013 upfront on Thursday was simple: TV is amazing.
But the legwork involved in getting to a fall schedule that Phil King, CTV president of programming and sports, says is one of the best he's seen for the network, included strategic schedule shuffling and targeting shows for specific nights.
The main goal going into the L.A. Screenings was to fix CTV's primetime Tuesday schedule, King said Thursday morning.
"Frankly, Tuesday's been a bit of a sore spot for us over the last couple of years," King said.
That meant counter-programming series that could go up against the top 10 shows on rival networks, like Global's NCIS and NCIS: L.A. at 8 p.m. and 9 p.m. respectively.
So the Tuesday overhaul starts with Marvel's Agents of S.H.I.E.L.D. at 8 p.m.
King says it's a draw because it comes with a built-in audience, has a "brand pedigree" and will appeal to a wide age demo.
CTV is following with a block of new comedies, The Goldbergs and Surviving Jack, and capping the night off at 10 p.m. with what King calls the network's biggest move for Tuesday, Person of Interest.
Kevin Crull, president of Bell Media, said the show, which previously aired on Rogers Media's City, is a "virtually guaranteed" top 10 show.
As the top-rated Canadian network, King said of rival networks, "I think they look at us more than we look at them," when it comes to counter-programming and scheduling decisions.
That said, he added that re-tooling CTV's schedule involves looking hour-by-hour, show-by-show at the top 20 to see how to "chip away at the grid."
And CTV also had fewer holes to fill this year. King said the network took a targeted approach, acquiring seven new series following the L.A. Screenings, relying on solid Wednesdays and Thursdays and the revamped Tuesday night.
"You buy 17 shows, it means you're worried. You've got aging shows, you've got a lot of holes," he said of rival network Global's fall pickups.
The network also shuffled its big unscripted series, like Dancing with the Stars, The X Factor, The Voice, Undercover Boss and American Idol to CTV Two.
King says the network wants to create a greater brand identity and scheduling consistency for the channel, and change the perspective of the channel as a mish-mash of programming.
"We don't want it to be the minor leagues of CTV," King said.
The unscripted reality series are followed by comedy strips of Mike & Molly and Hot in Cleveland at 10 p.m. and 10:30 p.m. respectively, and preceded by The Big Bang Theory at 7 p.m., so viewers can watch the top 10 show on either CTV Two or CTV at 7:30 p.m.
Another big announcement from the network on Thursday was a partnership with Twitter Canada on a series of TV analytics research initiatives.
The research is meant to provide advertisers and marketers with more real-time metrics and data around campaign effectiveness.
"I believe that TV is by far the best vehicle for getting a brand message out and positioning a company and a brand," said Crull, adding that while BBM and Nielsen will always be critical systems, they are decades-old.
He added that social media data complements the traditional TV measurement systems in an IP world, which means that with all of the big data from social and traditional TV on hand, marketers can, for example, do more targeted and dynamic ad insertions.
Crull said the market is no longer decades away from "the reality that commercials are very customized. And that big data analytics are going to provide us the ability to really benefit customers."
Photo: The stars of CTV's fall lineup at yesterday's upfront.
From Playback Daily