Cue Digital Media and Hercules Media Group launch Bent
The cross-platform branded entertainment upstart from founder David UK (pictured) will provide clients with one-stop creative development services.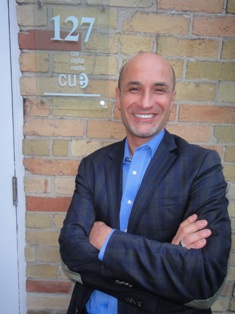 Cue Digital Media's David UK (pictured) has launched a branded entertainment venture, Bent, to deliver next-generation content on all platforms, not just digital.
The company, launched at the Banff World Media Festival, partners UK with ex-Chum Television exec and Hercules Media Group's Stephen Tapp, advertising veteran Christopher Grimston, and writer/director/producer James Hyslop.
Bent aims to produce content across all platforms, whether long or short format, reality, animation, factual or theatrical.
"Bent is the right partnership at the right time with a pedigree and passion for weaving and leveraging brands into entertaining stories, on all video-based platforms" said Tapp in a statement Monday.
The upstart company will also provide one-stop creative development to production servicing for a range of clients, including ad agencies, creative agencies, brands, broadcasters and publishers.
Toronto-based Bent will also aim to become a launch pad for content producers and writers looking to get content onto TV, online display, mobile, tablet, video and social media platforms.
 From Playback Daily