Spotted! Nivea takes its haus on the road
The Beiersdorf Canada brand is adding new stops in Vancouver, Calgary and Edmonton, as well as social media sharing options to its Nivea Haus tour.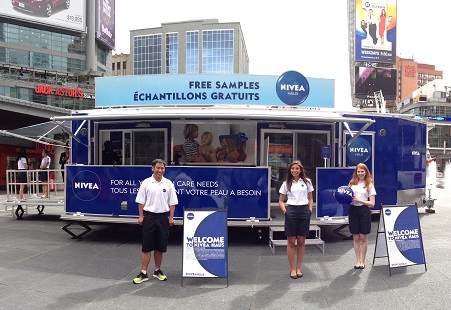 Beiersdorf brand Nivea is kicking off summer with the opening of Nivea Haus, a pop-up shop that begins its cross-Canada tour in Toronto today.
Targeting women aged 20 to 50 as well as men aged 20 to 34, the Nivea Haus will travel to Montreal, Vancouver, Calgary and Edmonton. The initiative was first launched in 2011, with a two-week shop exclusively in Toronto, but expanded to include Montreal in 2012, and the western cities this year.
The Nivea Haus, which is being executed with help from Toronto's Brand Driven Media, allows passersby to get a skin analysis from a brand skin advisor to help them determine which products are best suited for them. It also has different product sections that allow consumers to experience the products and receive free samples and coupons.
In addition to the new stops in Vancouver, Calgary and Edmonton, the brand has added a section where consumers are encouraged to share one good thing about themselves to the tour this year. Videos will be recorded, uploaded to Facebook and eventually combined into a larger piece that will live on the social site.
Also new is the "Make Care Matter" section, which urges visitors to go to Nivea.ca and interact with the brand's good deed calculator for a chance to earn Nivea prize packages in return for doing good deeds.
The Nivea Haus is being supported by TV spots on Global, as well as buys on Facebook. Nivea has also created localized Facebook pages for the pop-up shops.
Media for the campaign is being handled by Aegis Media, while Draftfcb Montreal is behind the creative. Toronto-based Blast Radius is handling social media, while Montreal's K3 Media is assisting with digital.
Larry LaPorta, general manager, Beiersdorf Canada, tells MiC that the Nivea Haus presents the brand with an ideal opportunity to connect with consumers both physically and emotionally by allowing them to experience the products and learn more about their skin. He adds that it was also seen as a strong platform for the brand to unveil a series of new products, as well as its new packaging.
He says last year's Nivea Haus saw the brand give away about 70,000 samples to 12,000 visitors over four weeks. He adds that demand from consumers across the country prompted the brand to go national with the Nivea Haus, noting that this year Nivea expects to see about 45,000 visitors and give out 300,000 samples and full-size products.
The Nivea Haus will continue to tour until August 16.