Valentine exchanges exercise for poutine
The Quebec-based QSR has launched a campaign for its new app, which rewards users with free poutine when they walk and burn off enough calories.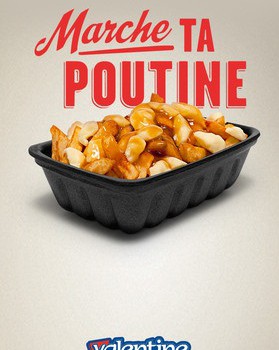 Quebec-based QSR Valentine is leveraging the popularity of poutine for the launch of a new mobile app and its "Marche ta Poutine" (walk off your poutine) campaign.
Designed by Lg2 and targeted at young adults, the app is equipped with a pedometer, which counts how many steps the user has taken, and also calculates the number of calories the user has burned based on sex and age. Users who walk enough to burn off the caloric equivalent of a Valentine poutine are then rewarded with an e-coupon for a free poutine.
Additionally, the app will act as a platform to drive awareness of Valentine's other offers, and give users access to exclusive promotions. It's also equipped with a store locator, and taps into social media, allowing users to share their progress with their friends or ask for encouragement.
The launch of the app was supported by activations in downtown Montreal and at Montreal amusement park La Ronde, which saw the brand work with Speed Experiential Marketing to invite passersby to test out the app on a treadmill.
Valentine has also relied heavily on social media, and is handling its own media as it looks to roll out the next phase of its campaign, which will include guerrilla marketing and OOH ads along hiking trails, as well as mobile banners and digital pre-roll.
Alexis Robin, partner, director of interactive, Lg2, says the app presents the brand with an opportunity to interact directly with, and reward, its most loyal consumers, while allowing it to stay true to its identity as a brand that is lighthearted and honest about the fact that it's a purveyor of fast food.
He adds that it's also a chance for Valentine to experiment with e-couponing, and find a model that works for it.
Robin says the app is part of a long-term program for Valentine, adding that the brand will look to add onto it as it receives feedback from customers.