Molson launches a cider
The brand has kicked off promotions for its Molson Canadian Cider, asking consumers to "Change it Up" and try the new offering.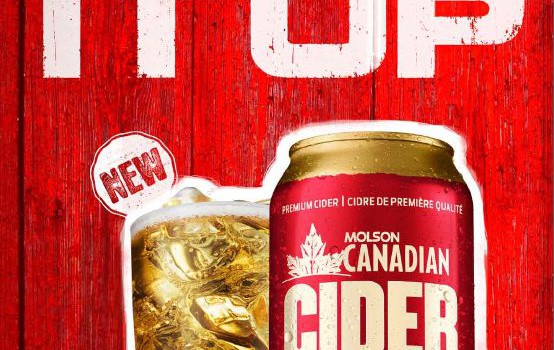 Molson Coors Canada has launched a campaign for its newest product, Molson Canadian Cider, asking consumers in Ontario and Nova Scotia to "Change it Up" and try the new offering.
With media by MEC and creative from Rethink, the new cider is launching with an OOH, radio and digital campaign targeted at urban men and women in their late 20s and 30s, Madeline Burch, marketing manager, Molson Brands, Molson Coors Canada, tells MiC.
OOH ads in the campaign launch on June 26, with transit and billboard faces placed in close proximity to LCBO and NSLC stores, depending on the province. A radio partnership with Astral Media has the beer tapping into its "Change it Up" tagline by sponsoring the first plays of new songs on its stations throughout the summer.
Burch says the brand is spending $1.5 million on the OOH portion of the campaign, which isn't a large buy for the beer company overall but is enough to put it in the top five spenders for ciders in the country.
Creative in the campaign comes from research the brand did nationally, which found that though nine out of 10 drinkers say they are open to trying a cider, there is a penetration of less than 1% in the category, says Burch.
"We found the main reason people aren't drinking cider is that it isn't top of mind, no one has presented them with a compelling offer and they didn't see cider out there," she says. "Molson thought that was an opportunity for the brand to come in and invite people to change."