Kirstine Stewart introduces Twitter Canada's offerings
At yesterday's official launch party, the former CBC EVP of English services unveiled Twitter Amplify, a platform for embedding content in Promoted Tweets.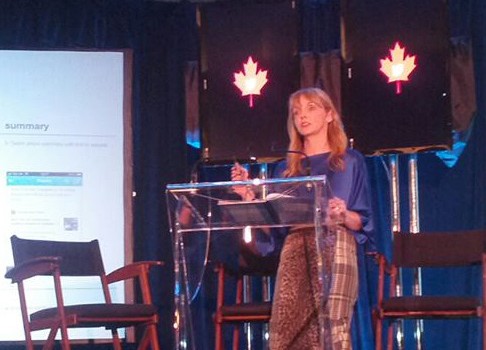 A little more than a month after the news that Twitter would be opening a Canadian bureau, the social media company's Canadian managing director, Kirstine Stewart, invited advertisers and broadcasters to yesterday's official Twitter Canada launch party.
Joined by media agency execs, including MediaCom CEO Jamie Edwards and Starcom MediaVest CEO Bruce Neve, as well as popular tweeters like Montreal Canadiens' defenceman P.K. Subban and Dragons' Den's Arlene Dickinson, the former CBC EVP of English services introduced Twitter Canada and the offerings it's beginning to roll out.
While the social media company will offer standard opportunities like Promoted Tweets, it will also look to import other offerings from the US for its Canadian clients. Twitter Amplify, a multi-screen partnership program, will allow advertisers and broadcasters to leverage Promoted Tweets and embed content, such as highlights, teasers and product information directly into their tweets.
Shaw Media has already partnered with Twitter Canada around Amplify, and will look to roll it out in the fall TV season.
In addition to Twitter Amplify, Stewart said that Twitter Canada will look to roll out more advanced ad targeting. The ad targeting will rely on a technology that watches and catalogues all of the shows that a brand's ads run against, as well as the times when they air. It then listens to Twitter and recognizes users who are tweeting about the show, allowing the brand to send Promoted Tweets to specific users.
"With both Twitter Amplify and ad targeting, it becomes more of a requested tweet than one that is delivered by the brand. And instead of just being something static like a banner ad, Twitter Amplify allows for the delivery of meaningful content," said Stewart.
She added that both offerings will benefit Canadian broadcasters who simulcast shows with US counterparts, because it will allow them to start their own conversations with viewers.
As part of a partnership with Bell Media, Twitter Canada will also be rolling out TV-related analytics initiatives, centred on social TV behaviour and social TV ROI.
According to Stewart, Twitter Canada currently has a staff of about a dozen employees and is still working on finding a permanent office. She said that the company's growth will depend on how fast it can scale and fill new positions.