Cannes: Karen Nayler shares learnings from AOL research
The Mindshare CEO takes MiC to the Palais for her first day of sessions following her judging duties in round one of the Media category at the festival.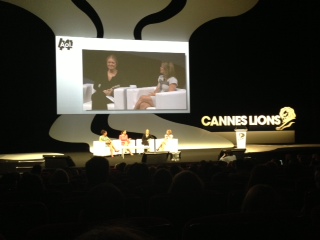 Karen Nayler, CEO, Mindshare Canada was in Cannes this year as part of the first phase of judging in the newly reworked Media category. Now that the first round of judging is over Nayler is taking MiC to the beach, blogging her experience at the festival.
Sunday June 16th was day one at the 60th anniversary of the Cannes Lions the International Festival of Creativity. For the first day I embeded myself in in the Grand Auditorium taking in a diverse group of sessions. Kicking things off was AOL's Makers Project, "Sharing
the History and Creating Connections via stories of Women who Shaped Yesterday, Today and Tomorrow." What a great way to be inspired having activist Gloria Steinem, Maureen Sullivan, SVP and general manager of lifestyle brands and women's content, AOL and executive producer Dyllan McGee speak during the session.
Steinem made the point that over the ages humans used campfires as their opportunities to exchange ideas and our stories. She said media are the new campfires and we are still storytelling but in different ways. The Makers Project is a 3-hour documentary but also a short form video, which is often the way the campfire works now. Best quote from Steinem, "the truth will set you free but first it will piss you off".
Later in the day it was time for some research from AOL, who confirmed we have managed to automate emotional tracking through face recognition software. We all recognize the importance of emotion in connecting with an audience. This software by AOL's Be On and RealEyes demonstrates just how important with quantifiable metrics. Particularly important in this age of video where viewers are more likely to "snack" on content.
Unfortunately the day ended with a bit of a disappointment. The headline read "Foreigner: No Boundaries for Creativity." The audience and I all seemed to think we'd be getting a discussion around the ability of creative to cross cultural boundaries. What we heard was how easy (or not) it is for a creative person to move in this business to a different culture.
As the crowds emptied the Palais des Festivals it was obvious there was a buzz about what's to come this week.