TSN showcases the CFL's big stars
The Bell-owned property is promoting football's return with the "You Need to see these Guys Play" campaign, featuring TV spots and OOH buys.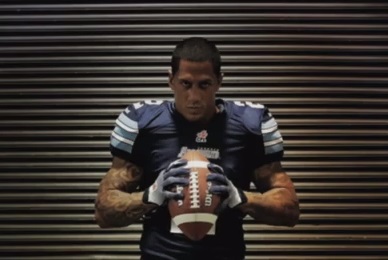 TSN is gearing up for the return of CFL football this summer, with the launch of the "You Need to See These Guys Play" campaign.
With both media and creative handled internally by Bell, the campaign targets adults, aged 25 to 54. It will use Bell's TV and digital properties, including TSN and CP24, as well as radio stations like TSN Radio. It will also rely on an external OOH campaign in major CFL markets like Toronto, Montreal and Vancouver.
While last year's pre-season campaign was focused on the 100th Grey Cup and the journey of the team, this campaign focuses more on individual players, including Toronto Argonauts wide receiver Chad Owens and B.C. Lions quarterback Travis Lulay. TSN will roll out additional spots focusing on different players as the campaign goes on.
Greg McIsaac, director of communications, TSN, tells MiC that TSN wanted to take a different approach this year by profiling the league's stars and what they do on and off field. He says the goal is to help fans better connect with the CFL brand, as well as the teams and the players they love to follow.
The campaign will run throughout the summer.