Cannes blog: Jack Black's new Yahoo! series and setting creative goals for good
Karen Nayler takes in Monday's talks in Cannes, which ranged from Jack Black's web series to this year's Cannes Chimera competition.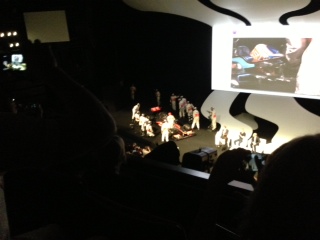 Karen Nayler, CEO, Mindshare Canada was in Cannes this year as part of the first phase of judging in the newly reworked Media category. Now that the first round of judging is over Nayler is taking MiC to the beach, blogging her experience at the festival.
Star power was in full swing Monday. Jack Black kicked off Yahoo!'s session on online content to a packed audience. Although said he'd been out partying the night before, his timing was right on. Black's company, Electric Dynamite, has moved into digital with Ghost Ghirls for Yahoo! Screen (Yahoo!'s video sharing service). Web series are a great opportunity for the creative community to get their work to an audience instead of writing pilots that no one gets to see, he said. Online video is adaptable, with Yahoo! making the point that it is able to test and assess what people want and allow for instant feedback, which benefits the actors and writers.
Black's message on success, regardless of the medium, was to "stay clear of cliches and any place that has been done before."
Next up was a wonderful session by Coca-Cola, which was about how it builds its corporate social purpose mission into its brand stories. Coca-Cola's belief is that it can do well by doing good. We were treated to a walk through the brand's history of making social commentary through the best of its advertising from 1955 through 2013. From print ads in the 50s showing the early use of an African American model, to the Coke machine linking India and Pakistan in 2013, the brand demonstrated it is possible to have a strong social position within your message as long as it is authentic to the brand.
The Bill & Melinda Gates Foundation took full advantage of Cannes as the gathering place of the world creative community to appeal for help ending extreme poverty. In association with Cannes, the 2013 Cannes Chimera was launched, a competition for ideas on how to end extreme poverty by 2030. The brief: "Give people a voice and a way to take action." Up to 10 ideas will be awarded $100,000, with the opportunity to fund the project to the tune of$1 million to make it a reality.
From social purpose to a session from Mindshare and McLaren F1 (a car designed by McLaren Automotive) on how to be more adaptive, we were wowed by the arrival on stage of an F1 car complete with a pit crew. Ron Dennis, chairman of McLaren manages on the principal that if you don't adapt and continuously change, you die. He made it clear that to compete is only to participate, but being competitive means you adapt and change before anyone else. Nick Emery global CEO of Mindshare linked the adaptive world to what the agency and marketing world needs to embrace to succeed. Our business is now about connected approaches, new rules, everything in real time and finding the right talent.
Like the thousands of other ad types, my day ended with a great dinner and lots of people watching.