Big Brother Canada dominated Canadian social TV in Q1: report
The domestic version of the reality series (pictured) amassed more than 116 million impressions and 120,000 interactions, according to a study by Seevibes and Evolumedia.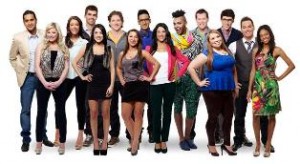 Big Brother Canada was a standout second-screen experiment last winter, quickly becoming the top Canadian-made TV production of all time in terms of social media impact.
That's the conclusion of a new quarterly report on Canadian social TV trends prepared by social media analytics firm Seevibes and Evolumedia Group, both based in Montreal.
Big Brother Canada debuted on Shaw Media's Global and Slice channels in January, then aired only on Slice until the end of April. It amassed a total of 116 million impressions and 120,000 interactions, more than any other Canadian TV content, according to the report.
The report also stated that 71% of the program's social chatter occurred on Twitter; 74% of the chatter was by female audience members; 41% was by people living in the Greater Toronto Area; 55% were using smartphones (and 65% of those devices were iPhones).
Additionally, the report found that Global is the most followed Canadian TV broadcaster when it comes to social media: it had 84,544 Twitter followers and 38,427 Facebook fans in the period.
Separately, Bell Media's MuchMusic is the single most popular cable channel: it had 514,200 Twitter followers and a whopping 1.3 million Facebook fans in the focus period.
However, when the cumulative social media interactions for the programs are taken into account, at 38 million interactions in the season, CTV was the top Canadian network, with Global in second place at 22.4 million in the first quarter.
From Playback Daily