Adidas Canada joins the Olympic team
The sports apparel brand will design a special product line for the Olympic athletes, which will also be available to consumers at Sport Chek.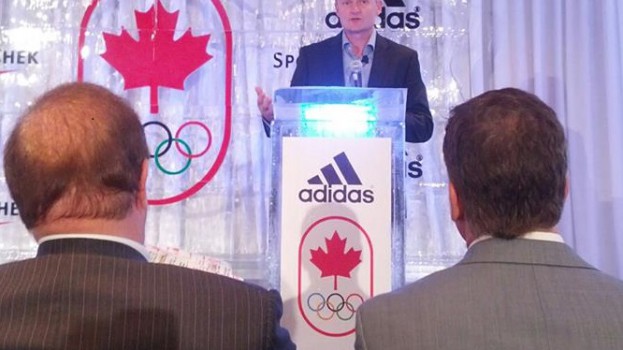 The Canadian Olympic Committee has announced details of its agreement with its newest partner, Adidas Group Canada.
The four-year deal with the sports apparel brand, which was announced yesterday in Toronto, will see it become the official high performance apparel licensee and official footwear supplier of the Canadian Olympic team for the 2014 Winter Games in Sochi, the 2015 Pan Am and Para Pan Am Games in Toronto and the 2016 Summer Olympics in Rio.
As part of the deal, the brand will design a new product line called "The Canadian Olympic team High Performance Collection," which will be used by athletes and also be made available to Canadian consumers year-round, starting Nov. 7.
Courtesy of an additional deal with FGL Sports-owned Sport Chek, the product line will be sold exclusively by the retailer, with select products being made available at Canadian Tire stores, and Sports Experts stores in Quebec starting Nov. 30.
Sport Chek, Canadian Tire and Sports Experts were all named as premier national partners of the Canadian Olympic team earlier this year.
Adidas and Sport Chek are also teaming up to sponsor seven Canadian athletes who will be competing at the 2014 Sochi Games, including Chris Del Bosco (ski cross), Erik Guay (alpine skiing), Charles Hamelin (speed skating), Kaillie Humphries (bobsleigh), Meaghan Mikkelsen (ice hockey), Jon Montgomery (skeleton) and Maëlle Ricker (snowboarding).
The two-year sponsorship deals will see the brands offer financial support for the athletes' training. In return, the athletes will be featured as part of a national "What it takes" campaign, which is slated to launch in September. They will also make appearances in Sport Chek stores and at events, and become Jumpstart Olympic Ambassadors.
Jim Gabel, president, Adidas Group Canada, said that this is the first time that Adidas has partnered with the Canadian Olympic Committee, despite its long-time ties to the Olympics through partnerships in other countries like the UK, Germany and France.
He says it's also the first time that a brand has launched an Olympic apparel line that will also be available to Canadian consumers, adding that the brand saw it as a way to bring the Olympics to life for Canadians and aspiring athletes year-round by providing them with the equipment that the Olympic team will be using.
Chris Overholt, CEO, Canadian Olympic Committee, said that the Committee is still looking for partners in a few specific categories, including logistics and courier services and chocolate and confectionery. He added that the Committee will likely be making more announcements on these new partners in the coming months.
Photo: Adidas Group Canada president, Jim Gabel.