Aeroplan launches Distinction for top earners
To promote the new tiered recognition plan, the Air Canada-based rewards program is launching its biggest OOH and print campaign ever.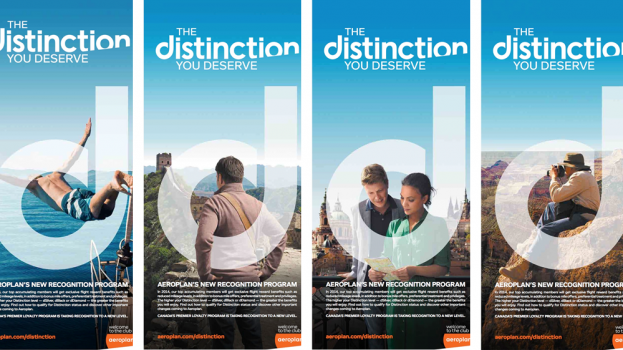 Coming off the anticipated news that Aimia-owned Aeroplan will switch to a new financial partner for loyalty credit cards, moving to a 10-year contract with TD from previous provider CIBC, the Air Canada-based rewards program will launch Distinction, a new tiered reward program for top accumulating members.
To promote the changes, Aeroplan is launching the single largest campaign in its history, says David Klein, VP marketing and innovation at Aeroplan. The campaign, with media and creative by Cossette, will launch today across the country with digital and static billboards, web (on sites like Yahoo!, YouTube and Sympatico) and newspapers (in all major market dailies), as well as in airports in Vancouver, Montreal and Toronto and Toronto's downtown PATH system and taxis. It will run until the end of the year, targetting Aeroplan's high-value members, whose income tends to skews higher than average, says Klein.
Creative is designed to enforce the rewards of attaining the Distinction level, featuring scenes that highlight the benefits of being a member, such as a man gazing across the Great Wall of China or scuba diving.
"Creative plays off the 'D' in Distinction," he says. "[And] it's showing people having successfully leveraged their Aeroplan participation."
The new reward program is based on member feedback as a way of enhancing the experience for top members, he says.
Traditional frequent flyer programs, such as Aeroplan's Air Canada Top Tier, tend to bequeath special benefits on those who travel often, which missed a large chunk of Aeroplan's top earners who collected via other methods, such as through the CIBC credit card (soon to be replaced with TD), or at retail. This program allows the loyalty card to further reward its most engaged members, even if they aren't frequent flyers. Distinction will not replace Air Canada's Top Tier program, but will run concurrent with it.
Those who achieve Distinction status, with 25,000 points or more, will get benefits such as bonus miles, exclusive events and exclusive chartered flights.
Further, the program is doing away with its seven-year expiration date based on member feedback, Klein says, recognizing that many begin saving points young in order to enjoy them later in life.