The Verdict: Pizza Pizza gets interactive with Xbox
The QSR's marketing manager talks about how the brand upped the ante with its Microsoft partnership.
Each February and March for the past nine years Pizza Pizza has run a Dinner & Movie promotion, offering a food special in conjunction with a two-for-one Cineplex admission ticket.
This year in addition to promoting the deal through TV, digital, direct mail and in-store advertising, the QSR partnered with Xbox to place an ad on the console's homepage, movie and music pages during March break. It featured a 30-second spot advertising the special as well as allowing users to click and order pizza without leaving the gaming experience.
Tina Kalogeropoulos, national marketing manager, Pizza Pizza, tells MiC the Xbox promotion had over one million impressions and 10% of those who entered the ad purchased the Dinner & Movie Deal.
Kalogeropoulos says the Xbox ad was a step up from the static digital ad the brand placed on Xbox last year, adding that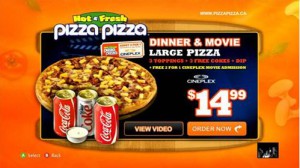 placing the ad on the console during March break is part of a larger strategy to be more strategic about how and when it targets consumers.
"We are looking to reach people at the point of the day when they are likely looking for meal ideas," she says. "Being there during March break was great because we had also been running ads in print, online and in-store so people had likely heard about the promotion."
Over 30% of Pizza Pizza orders are now done through the company's website, iPhone and iPad apps, says Kalogeropoulos. She adds that the company notices there is a greater level of customization in orders when people order online versus calling in, getting more engaged with building the pizza themselves. The Xbox promotion linked to Pizza Pizza's new site design, which doesn't require customers to create an account to place a food order.
"In general we are looking to reach adults over the age of 18 but since we were advertising during March break we also reached teenagers who were home during the day," she says.