Spotted! Stop the Drop leaves beachgoers a message
The non-profit organization, aimed at protecting Lake Huron, is raising awareness for dropping water levels in the lake with billboards and messages in bottles.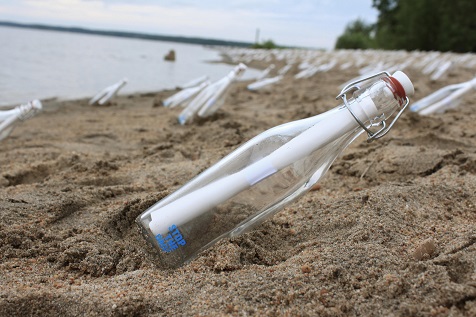 Stop the Drop, a non-profit organization devoted to protecting Lake Huron, attempted to cause a splash with visitors to Killbear Provincial Park beach (located along Georgian Bay) by sending them messages in a bottle.
The stunt saw the organization work with Smak Media and John St. to line the beach with more than 2,000 messages in bottles. The messages, written as if they were from Georgian Bay, attempted to raise awareness of the lowering water levels in the bay.
To support the stunt, Stop the Drop is working with local communities and marinas, which have donated billboard space, and are also handing out leaflets to boaters.
The messages, billboards and leaflets all drive visitors to the Stop the Drop website, where they can sign a petition aimed at getting local politicians involved in the effort to protect Lake Huron, and share with their friends through social media.
Angus Tucker, ECD, John St., tells MiC that the stunt was inspired by the insight that many people who use and rely upon Georgian Bay are already aware of the dropping water levels, but feel powerless to stop the problem.
He says the personalized messages presented Stop the Drop with an opportunity to empower people while engaging with them on an emotional level, adding that the organization will also leverage photos and video from the stunt as additional material to promote the cause through its social media networks.
Tucker says the strongest push for the campaign will happen throughout July and August, with the goal being to reach 20,000 signatures by Labour Day.
The petition currently has more than 6,000 signatures.