AMEX Canada brews up a partnership with Tim Hortons
The deal is part of a long-term strategy to broaden the credit card co's utility to include more everyday purchases.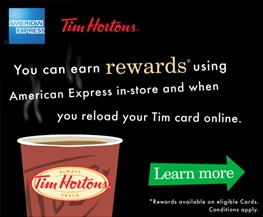 American Express cardholders can now pay for their morning coffees and donuts with their credit cards thanks to a new deal between American Express Canada and Tim Hortons.
Customers who use their cards in-store will be able to earn AMEX rewards, as will those who use their cards to top-up their Tim cards online.
To celebrate the Tim Hortons partnership, AMEX has launched a small campaign with media by Mindshare and creative by Ogilvy Toronto.
Targeted primarily at existing cardholders, the campaign relies on digital banner and box ads on sites like Yahoo!, MSN and the CP24, and radio spots on 680 News, Virgin Radio and Q107.
The campaign to promote the new partnership will run until mid-August.
The Tim Hortons deal is the latest in a line of partnerships with merchants for the card co, including McDonald's, Sobeys and Costco (which AMEX partnered with to create the TrueEarnings card), that have seen AMEX begin to evolve its portfolio of merchants across new categories, in particular when it comes to making smaller purchases.
The announcement comes on the heels of Visa's recent "Smallenfreuden" campaign, which saw the credit card brand and AMEX competitor promote the small purchase utility of its cards.
David Barnes, VP advertising and communications, American Express Canada, tells MiC that traditionally AMEX's strong points have been in the travel, entertainment and hotel categories. He adds that the Tim Hortons partnership is part of the brand's overall long-term strategy to broaden the utility and acceptance of its cards when it comes to "everyday spend" items, like gas, groceries and other retail purchases.
Barnes says that the partnership with Tim Hortons was a natural fit for AMEX's expanding portfolio given that it's an iconic Canadian brand and it's a part of everyday life for many Canadian consumers. He explains that partnerships with "everyday spend" merchants like Tim Hortons will help AMEX increase its volume of business through greater frequency of charges, and also change the perception of the brand by allowing them to use one card for everything as opposed to using different cards for different purchases.