CTV announces digital content slate for The Amazing Race Canada
BlackBerry will sponsor companion program Inside the Race with BlackBerry, while Air Canada, Chevrolet and Interac will offer race-inspired games and challenges.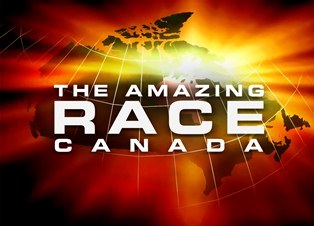 Yesterday, CTV unveiled the full slate of digital branded content that will accompany the upcoming July 15 premiere of season one of The Amazing Race Canada.
Supported by the show's four top-tier sponsors, Air Canada, BlackBerry, Chevrolet Canada and Interac, the content will allow viewers to engage more deeply with the show at CTV.ca through companion programming and interactive games, and will also offer them opportunities to win cash and prizes.
BlackBerry will be the sponsor of Inside the Race with BlackBerry, a companion program hosted by ETalk's Danielle McGimsie and Innerspace's Teddy Wilson, and provide viewers with access to behind-the-scenes footage, post-race analysis, interviews with competitors and never-before-seen footage. Weekly episodes will begin airing July 16 at 10 a.m., and fans will have chances to win a weekly prize of a BlackBerry Z10 by answering trivia related to the episode, as well as a grand prize of $5,000.
Starting July 15, Air Canada will launch Cheer to Win, allowing fans to enter online weekly by choosing a favourite team. Viewers can earn additional contest entries if their team avoids elimination, and by answering trivia questions about destinations visited in the show. Fans who enter will be eligible to win the same weekly prizes as those won by the winning teams at the pit stop, and entered into a draw for the grand prize of a year of travel in executive first class for two to all Air Canada destinations.
Also starting July 15, fans can play the Interac Flash Memory Game for a chance to win daily prizes of $200 gift cards from various merchants and a grand prize of $5,000. As of July 22, viewers can also register to participate in the Interac Flash Challenge, which will feature a series of live, speed-based events hosted in Toronto, Montreal, Edmonton, Calgary and Vancouver, for a chance to win $25,000 in prizing.
Rounding out the digital content lineup is Chevrolet Canada, which will sponsor Fast Track gamisodes hosted by The Amazing Race Canada host Jon Montgomery. The gamisodes allow fans to compete in online versions of the same challenges faced by the show's competitors to unlock exclusive footage.
Meanwhile, ETalk's Danielle McGimsie and TSN's Cabbie Richards will go head to head in the Chevrolet-sponsored Finding New Roads, a race-inspired series that kicks off July 15. The series will consist of two-minute episodes with challenges that feature Chevrolet Vehicles. A new challenge will be unlocked for viewers each week.