Spotted! Legoland Discovery Centre builds movie mosaics
The Toronto-based attraction enlisted the aid of passersby to help construct an ad for the release of its upcoming 4D film Legends of Chima.
The Legoland Discovery Centre enlisted the aid of passersby at the corner of Yonge and Dundas Streets in Toronto yesterday to help it build a series of mosaics for the upcoming release of its latest 4D film, Legends of Chima (based on a recently launched product line).
Targeted primarily at families with children, the stunt was planned and executed by the centre's in-house team and saw the mosaics constructed on the four sides of the bus shelter on the southwestern corner of the intersection. Two mosaics feature characters from the film, while the other two highlight attractions currently on display at the centre.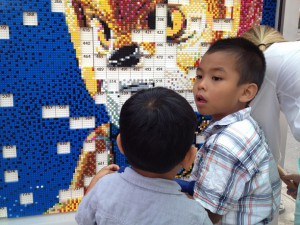 The stunt was supported by a social media push, leveraging the hashtag "#brickbybrick."
Lara Hannaford, marketing manager, Legoland Discovery Centre, tells MiC the idea came from similar executions out of the US, noting this is the first time the centre has built mosaics like this in Canada and also the first time it has used a bus shelter to do so.
She says the execution was a good fit because it could bring the Legoland Discovery Centre experience to life for people in the streets.
Legends of Chima will be released next week, and the mosaics will be in market for five weeks.