Tim Hortons tackles new partnership with Hamilton Tiger-Cats
The deal will see the team's new stadium named Tim Hortons Field and allow the QSR chain to serve its products at concession stands.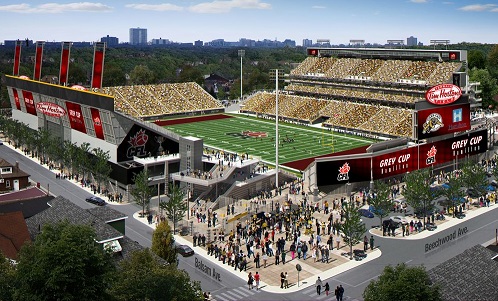 Tim Hortons has partnered up with the CFL's Hamilton Tiger-Cats, signing a ten-year partnership that will see the team's new stadium named Tim Hortons Field.
Along with naming rights, Tim Hortons will also be the presenting sponsor of Tiger-Cats football, and have premium branding opportunities, including visisbility in-stadium and on players' jerseys.
Additionally, Tim Hortons and Cold Stone Creamery products will now be available at the concessions, and an in-stadium museum will be built to celebrate the history of the QSR chain, the team and the city of Hamilton.
Rounding out the deal, Tim Hortons will also be the presenting partner of the Tiger-Cats Play Action minor football development program, which aims to help the development of minor football throughout the Hamilton region.
David Clanachan, COO, Tim Hortons, tells MiC that this is the first sports arena for which Tim Hortons has naming rights, aside from the community hockey rink in Cochrane ON (the birthplace of former NHLer Tim Horton).
He says the partnership was a good fit for Tim Hortons because the chain opened its first store in Hamilton (back in 1964), and it offers the brand a chance to give back to the community it was born in.
He adds that it's also a natural extension of Tim Hortons' existing relationship with the team, which in the past has included Tiger-Cats-themed donuts, advertising for the team on cups and contributions by the team to Tim Hortons' Camp Day initiative.