Spotted! John Frieda opens frizz-free salons
The hair product brand is launching pop-up salons in Toronto, Montreal and Vancouver, which are being promoted by Newad's digital signage.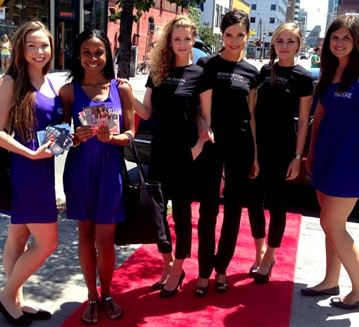 Hair product brand John Frieda is looking to promote its Frizz-Ease line and help women find the right product for them with its latest experiential activation.
Targeting women aged 18 to 64, with a bull's eye target of women aged 25 to 35, the activation was executed with the help of Newad Experiential. The brand will be hosting pop-up salons at malls in Toronto, Montreal and Vancouver.  Visitors will get one-on-one time with a stylist, who will give them a style touch-up, help them figure out what their hair needs and give them a "prescription pad" with a list of products they should buy. They'll also walk away with a gift bag of sample products.
Leading up to the pop-up salons, the brand will have street teams handing out free samples of John Frieda products, and is also leveraging social media, as well as Newad's digital signage system in public bathrooms in the three markets. It will also have pop-up events with models who will show up at busy intersections to show off trendy, frizz-free hairstyles.
Danielle Vanderlugt, marketing assistant, John Frieda, tells MiC that sampling initiatives like this are a core part of the business for the brand.
"For brands like John Frieda where we're asking consumers to pay more of a premium pricepoint for a salon quality product, we've found that they really like to try it first,"  she says.
The pop-up salons will appear at the Scarborough Town Centre in Toronto on July 20, Les Ailes in Montreal on July 27, and the Pacific Centre in Vancouver on Aug. 3.