W Network unveils fall sked
The Corus specialty channel is launching new seasons of homegrown series like Property Brothers (pictured) and Come Dine With Me Canada.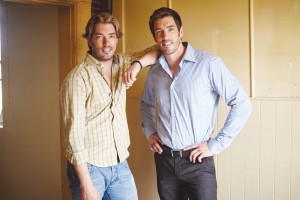 Corus Entertainment's W Network on Wednesday announced the lineup for its fall schedule, which includes new seasons of several homegrown original series.
A new season of Property Brothers, featuring twin brothers Drew and Jonathan Scott, premieres Sept. 3 at 8 p.m. In the one-hour real estate/home reno show, the brothers help buyers get into their dream homes without breaking the bank by buying and transforming fixer-uppers. W Network has also added Property Brothers to its expanding Shop the Show offerings, which makes items featured in W Network series available for viewers to purchase through partnerships with e-tailers and retailers.
On Wednesdays, the final season of Candice Tells All hits screens, starting Sept. 4 at 7:30 p.m. The series follows designer Candice Olson from start to finish through the process of transforming and renovating homes.
And the fourth season of Come Dine With Me Canada kicks off Sept. 30 with a week devoted to barbeque masters.
Also coming this fall are new episodes of Undercover Boss Canada, starting Thursday, Sept. 19 at 9 p.m., and Love it or List It Vancouver, starting Sept. 2 at 10 p.m.
Undercover Boss Canada follows Canadian execs and CEOs who go undercover and work alongside their company employees to experience the challenges and meet the unsung heroes at the frontlines of their business.
Love it or List It Vancouver pits designer (and former Bachelorette) Jillian Harris against realtor Todd Talbot as they battle to fulfill homeowners' lists of must-haves.
W Network will also premiere the fourth seasons of political-legal drama The Good Wife (starting Sept. 10 at 9 p.m.) and Undercover Boss (starting Sept. 5 at 8 p.m.), and will air feature films including No Strings Attached, The Lincoln Lawyer and Larry Crowne.
"W Network's ratings success is built on our original W series that are huge hits with our viewers. This fall will be no exception as W Network rolls out new episodes of fan favourites, including Love It or List It Vancouver and Property Brothers – series that are not only wildly popular here in Canada, but resonate with international audiences as well," said Corus VP, head of TV programming and production John MacDonald, in a statement.
From Playback Daily