Kit Kat issues Chunky challenge
The Nestle chocolate bar has launched a contest to decide on its next permanent flavour.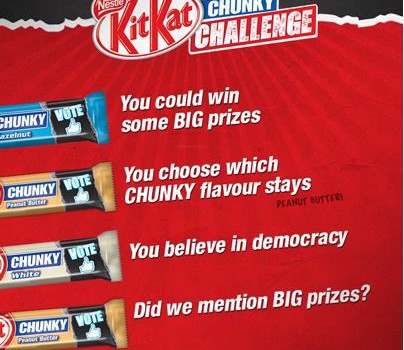 Nestle's Kit Kat Chunky has issued the Kit Kat Chunky Challenge, a new contest asking fans to pick which one of three new limited edition flavours (peanut butter, white chocolate or hazelnut) will stay on as a permanent edition to the chocolate bar's product line.
With media from ZenithOptimedia and creative from One Method, the primarily Facebook-based campaign features Toronto Raptor Amir Johnson for peanut butter, Montreal Canadiens defenceman P.K. Subban promoting hazelnut and Toronto Blue Jays catcher J.P. Arrencibia gathering votes for white chocolate competing in various challenges (like karaoke and quizzes) for votes for their flavour. The flavour with the most votes at the end of the contest in September will be added to the product lineup for good, Jan Fuller, marketing leader, confectionery, Nestle, tells MiC.
Keeping the choice theme going through the contest, when a consumer votes for one of the flavours through the Facebook app they are entered to win one of three trips of their choosing (a trip to Vegas, a music festival in California or a VIP sports weekend).
A larger media buy promoting the contest includes Facebook ads and buying closed captioning around programs its core target of men in their 20s watches on TSN and Comedy, says Fuller.
"The campaign is very digitally focused, which is very important with this target consumer," she says. "We also know when the target takes a break they are viewing videos. The goal of the campaign is to come up with the permanent Kit Kat Chunky for the lineup and then engaging the younger consumer."