Indie 88 hits Toronto airwaves
The Central Ontario Broadcasting-owned station goes live today after Rickrolling listeners for a week.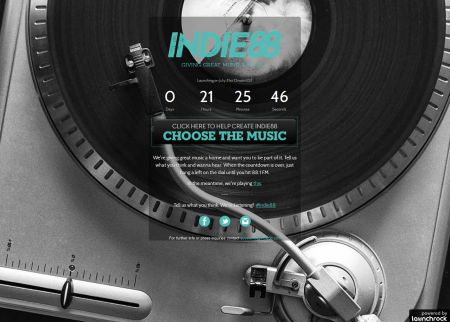 Barrie, ON-based company Central Ontario Broadcasting is launching Indie 88 today, an all-independent music radio channel in Toronto.
The station has been gearing up for its launch (and completing its broadcast testing at the same time) by Rickrolling listeners who tune in by playing Rick Astley's "Never Gonna Give you Up," Megan Bingley, general manager at Indie 88, tells MiC.
"It's rare that you can take something so prolific from the digital world and bring it to a different medium," she says. "It has really gotten people's attention, which is something you need to do when you're launching a new radio station in a big market like Toronto. We wanted to have a little bit of fun and introduce people to the station in a hilarious way. A lot of people might think of indie music as being sort of inaccessible, we think it is accessible and we don't want to take ourselves too seriously."
Bingley says the target demo for the new station is adults between the ages of 25 and 44. She adds that advertising opportunities on the station will range from traditional radio spots to digital placements on its "magazine-style" website, which will feature exclusive written and video content.
David Bray, president of Bray & Partners Communications, says the station fulfills the current "hot button" issue of focusing on new and emerging Canadian talent.
"From a ratings and revenue standpoint, the new station won't dramatically affect the marketplace," he says. "It has to be viewed as an alternative or niche player…It can't be seen as an all things to all people format. Initially it won't have much of an effect on the money demos. The fact that it won't significantly affect current licence holders probably played a role in the CRTC's decision to award the company with the licence."
Bray says though Indie 88′s digital role will play a role in their potential success, the station will likely incorporate more mainstream new music to expand its customer base.