ING encourages big savings
The bank has launched a new experiential and OOH campaign to show how saving on everyday items can pay off in the long run.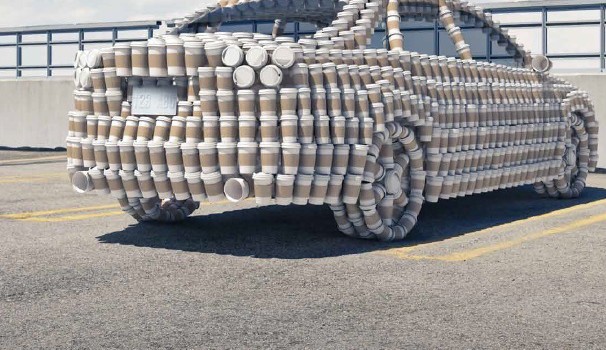 ING Direct is encouraging consumers to save their money with a new campaign that shows them how smaller purchases can add up to big things.
The campaign creative features big-ticket items like cars and travel bags that are constructed out of everyday items like coffee cups and food containers, with the tagline "You get what you save for."
With media by Initiative, creative by John St. and digital by Dashboard, the campaign is targeted at adults, aged 18 to 60. It relies primarily on OOH buys, including a transit station demonstration in Edmonton that will see an artist construct a car out of coffee cups. Passersby will be invited to tweet how many coffee cups they think it took to make the car for a chance to win $5,000.
Other OOH executions include elevator wraps, transit shelter ads and billboards in Toronto, Vancouver, Montreal, Edmonton, Calgary and cottage areas across the country.
The campaign will be supported by a TV buy, with spots airing on channels like YTV, OWN, TSN, RDS and Canal Vie, as well as a small digital buy.
Mark Nicholson, head of digital and creative communications, ING Direct, tells MiC that this campaign features a heavier skew towards experiential and OOH than is typical for ING, as well as creative that is more imagery-focused.
He says the strategy was to drive home the "You get what you save for" message using images that consumers recognize and can relate to.
The campaign will run throughout August.