Moms' moods inspire Walmart
From the emotional to the ultra-organized, the retailer showcases multiple mom personas in its new back-to-school campaign.
Centred around the many moods and modes of today's mom, Walmart's campaign for the back-to-school season encompasses four television spots and another nine digital videos with media by Mindshare and creative from JWT.
Each spot showcases a different mom persona while she shops for deals at the retailer. In one ad, the "On-A-Mission" mom hastily arrives at Walmart and rushes her kids into the store to shop for discounted school items before using a walkie-talkie to communicate with dad, who waits in a getaway car in the parking lot. There are also spots for the overly-excited mom who is energized by every item in the store, the emotional mom who can't stop crying over her child growing up and the mom who stringently shops according to a list.
Furthering reach beyond mass TV, the retailer created another nine characters (from thrifty to outdoorsy to trendy mom) and inserted them in short and long-form digital pre-roll spots.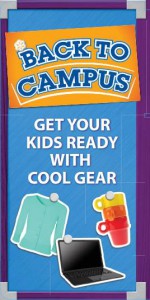 The mom creative does not extend into stores, says Toni Fanson, the retailer's senior director marketing, adding that it chose to include traditional Walmart back-to-school themed signage that features price points for school products on display and helps guide consumers through key aisles.
"The in-store environment is aligned with seasonal message versus a campaign," she adds.  "The mom campaign idea helps bring mom in the door and the signage is intended to help simplify her shop once she gets in-store."
"This campaign really shows a playful honesty and understanding of what moms are feeling this time of the year," says Brent Choi, chief creative and integration officer at JWT of the creative, which is a departure from last year's back-to-school marketing that offered a more emotional take on everyday family life. "Humour is always a great way for a brand to show a real humanity. For this particular campaign, it allowed us the opportunity to have fun with all the different emotions that come with the season in an entertaining way."
The videos launch this week and will air during premium women's programming on CTV.ca, GlobalTV.com and Radio-Canada.ca as well as on YouTube's Food, Home and Gardening channels. The TV spots, which launched last week, have been airing across women's specialty channels including W Network, HGTV and Food Network, in addition to conventional programming such as Amazing Race, Big Brother and MasterChef.
"Mom's world is becoming increasingly digitized and so we've adapted the media touch-points with which we reach her," says Stephanie Fleming, associate director at Mindshare. "[So] this back-to-school season we have expanded our definition of TV advertising and adopted a screen neutral media strategy to mirror how mom consumes video."