How Toronto Star's paywall will operate
The Star Media Group paper has rolled out a soft launch of its new subscriber program, called Digital Access.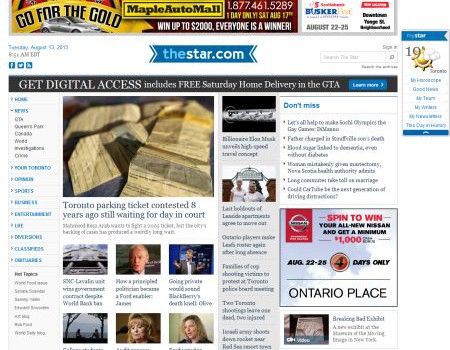 The Toronto Star has launched Digital Access, the digital paywall program the newspaper first announced was coming in October of 2012.
Free for current print subscribers who sign up before the end of the year and costing $9.99 for non-subscribers (after the first month, which costs $0.99), the pay wall goes up after readers have viewed 10 articles on the site, Bob Hepburn, director of communications, Toronto Star, tells MiC. Current print subscribers who sign up after Dec. 31 or don't use automated payment options for their accounts will be charged $4.99 on top of their current home delivery for the online content.
"We did a lot of studies of major newspapers across North America and the various models they have used to introduce a pay wall and we decided to go with a model of 10 free articles a month," he says. "There are a number of things that don't count towards the count of 10 articles, including the homepage, videos, section fronts, obituaries and classified ads."
Digital Access is modeled after pay walls from The New York Times and other subscription sites in Canada, says Hepburn. Today is considered a soft launch, he adds, with a marketing campaign promoting the subscription launching soon. Details on timing of the campaign and what will be included in it are not yet available.